10 Best Avengers Artists Of All Time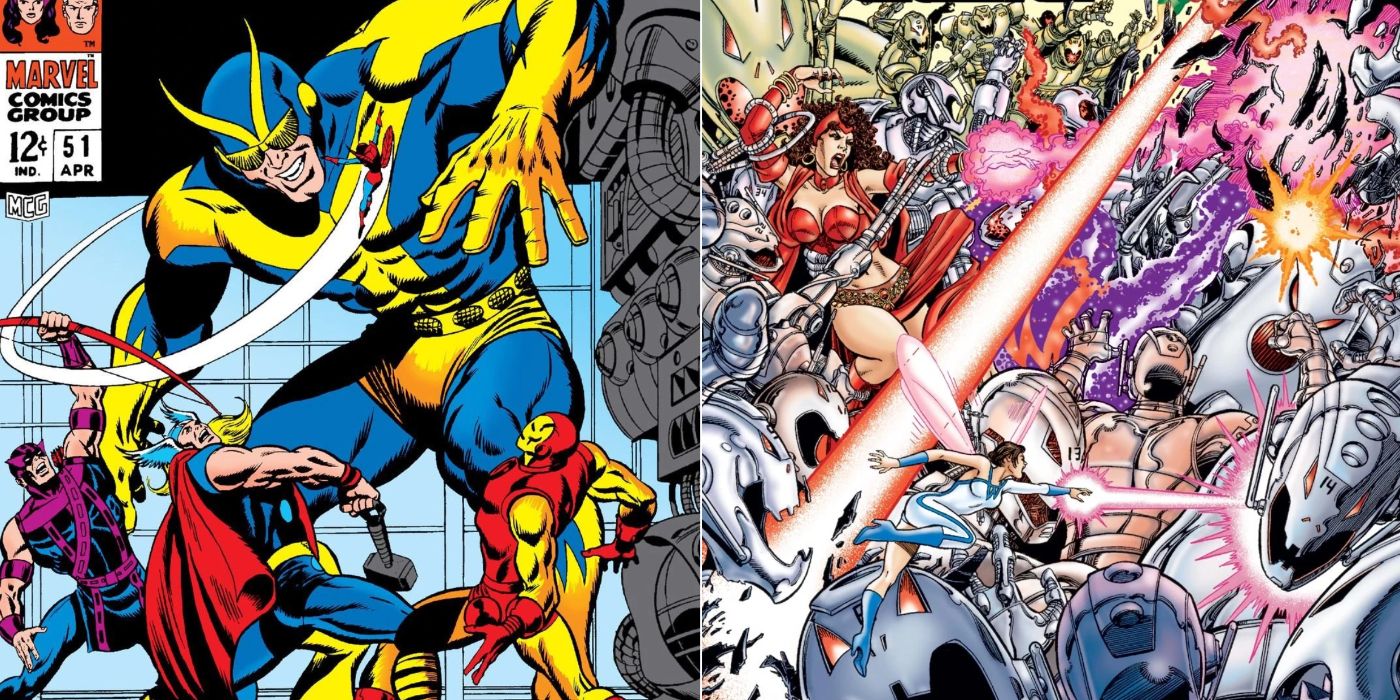 The Avengers are Earth's Mightiest Heroes, combining the greatest characters from Marvel, the genre of action and drama that has kept readers coming back for decades. Their book has gone through a lot over the years, sometimes hitting the top of the bestseller charts and other times right down.
RELATED: 10 Marvel C-Listers Who Deserve To Be Avengers
A succession of creators have worked on the Avengers, including the greatest artists in Marvel history. The Avengers are the best of the best and their adventures should look like that. Over the years, brilliant artists have graced the pages of the various Avengers books, bringing the team's battles to life with top-notch visuals.
ten

Adam Kubert lent his skills to the team
Adam Kubert is a big name in the modern comics industry. Son of legendary artist Joe Kubert, Adam worked at Marvel and DC, becoming a superstar while drawing Wolverine, XMen, and Weird X-Men mid to late 90s. Since then he has drawn all of the iconic Big Two characters, his unique visual style combining classic and modern.
Kubert drew Avengers (2013) #4-6 and All New, All Different Avengers #1-3, 7-8, 13-15. Kubert's dynamic style was perfect for the Avengers. Although he only drew a handful of issues, he proved himself to be as great an Avengers artist as anyone else.
9

John Romita Jr. brought his distinctive style to Earth's Mightiest Heroes
John Romita Jr. has become a Marvel legend. Son of John Romita Sr., Romita Jr. grew up in the offices of Marvel, with his first work published at the age of 13 in 1969. He went on to draw for all the major Marvel titles, from daredevil at Weird X-Men at The Amazing Spider-Man. However, he never had a long run on The Avengers, beyond #35 of vol. 3 in the year 2000.
That would change in 2010, when Romita Jr. was tapped to relaunch the book publishing initiative Heroic Age alongside writer Brian Michael Bendis. Romita Jr. shot #1-12, 14, and 16-17, bringing his eye-catching style of action to the team. Bringing epic stories to life, he also drew Avengers vs. X-Men #1-5.
8

John Byrne's Work On The Avengers Isn't As Famous But Still Pretty Awesome
John Byrne became a star on strange x-men, his crayons complimenting the greatest X-Men stories of all time. Byrne was a fan favorite and worked extensively at Marvel, with runs on The Fantastic Four and She-Hulk which were considered the best of all time for both books. He's also worked multiple times drawing Avengers comics, both The Avengers and Avengers West Coast.
RELATED: The 10 Strongest Avengers Roster, Ranked
Byrne drew The Avengers #164-166, 181-191, and 233. For west coast avengers, which he also wrote, he did #42-57. Byrne's style was perfect for the Avengers, and he worked on several high-profile Scarlet Witch stories that would play a huge role in the character's evolution.
seven

Leinil Yu provided stunning visuals of the Avengers
Leinil Yu debuted Wolverine in the late 90s and his son became a huge star. One of Marvel's most trusted artists, he's worked on nearly every major character in the publisher. He finally got the chance to portray the Avengers in the late 2000s, during Brian Michael Bendis' historic run, bringing a visual sensibility to the book that was unlike most artists.
Yu drew New Avengers #22, 27-37 and New Avengers ending help build secret invasion, which he also drew. He would return during Jonathan Hickman's run, drawing The Avengers #18-23 and 29-34, which included the Infinite cross issues. Yu's art had a visual flair all its own and gave the Avengers some unforgettable pages.
6

Mike Deodato Jr.'s return to the Avengers in the 2000s showed just how much his style has grown
Mike Deodato Jr. made a name for himself in the mid-90s at DC, before moving to Marvel. He was immediately put The Avengers, drawing problems 380-382, 384-385, 397-388, 390-391, 393-395, and 397-402. He would go on to draw a succession of Marvel books, before returning to the Avengers during the Bendis era, working on books that would redefine the team.
Deodato Jr. drew New Avengers (Vol. 1) #17-20, Dark Avengers #1-6, 9-16, Avengers (Vol. 4) #35, and New Avengers (Vol.2) #9-30, 34 with Bendis, as well as Secret Avengers #1-6, 6-10, and 12, his art style changing and evolving throughout. He would go back to when Hickman was writing the team, drawing Avengers (Vol.5) #9-13, 24, 37, 39, 41 and New Avengers (Vol.3) #7-12, 28, 32-33. Deodato Jr. had one last Avengers with Savage Avengers #1-5, proving he's an icon of the Avengers.
5

Steve Epting made the Avengers shine during a tough time for the team
The 90s at Marvel weren't great, especially for the Avengers. Sales were dwindling and the X-Men were getting all the attention, but that didn't mean Earth's Mightiest Heroes were without great talent. Artist Steve Epting has drawn the book for years, delivering brilliant art and a fresh aesthetic.
Epting drew The Avengers (Vol.1) #335-339, 341-347, 349-350, 355-361, 363-365, 368-369, and 372-375. He returned to Avengers (Vol.3) #36-37 in 2001. Every issue he drew was amazing, and his art delivered a classic sensibility and craftsmanship missing from a lot of Marvel art in the 90s.
4

Jack Kirby started it all
Jack Kirby is the king. The greatest writer/artist in comic book history, there were few creators more hardworking or as creative as him. He co-created the greatest Marvel characters of all time with Stan Lee and did the lion's share of work on those early Marvel comics. He even worked on The Avengers before leaving the company to go to DC and create more timeless characters.
Kirby drew issues #1–8, which included Kirby's co-creation Captain America's return, and did layouts on issues #14–17, with artist Don Heck finishing up. Kirby's distinctive high-energy style set the tone for Avengers artists to come and stand the test of time years later.
3

Neal Adams Didn't Draw The Avengers For Long, But It Was Amazing While It Lasted
Neal Adams was a treasure trove for the comics industry. Considered one of the greatest to pick up a pencil, he tops artists' top lists for several characters. Known for his Batman art in DC, as well as his time on Green Arrow/Green Lantern, Adams has done a lot of amazing Marvel work, including x-men and The Avengers in the silver age.
RELATED: The 10 Weakest Avengers & How They Still Help
Adams drew The Avengers #93-96, which was part of the classic "Kree-Skrull War" story. The biggest problem was #93, as Ant-Man walked through a damaged vision in order to fix it after a Skrull attack. Adams' unique style fit the Avengers like a glove, and those three issues were jaw-dropping.
2

John Buscema has drawn the greatest Avengers stories over the decades
Few artists were as synonymous with the Avengers as John Buscema. A Marvel heavyweight throughout the Silver and Bronze Ages, Buscema's work has completed hundreds of comic books, bringing Conan, Wolverine, Spider-Man and many more to life. Its time on The Avengers was his most iconic, crafting some incredible stories, including one of the best Avengers stories – "Under Siege."
Buscema drew trouble #41-44, 46-47, 49-62, 74-77, 79-85, 94, 97, 105, 121, 124-125, 152-153, 255-279, and 281-300. Buscema's work on Avengers defined the book's visual language. He was a legend and the Avengers wouldn't be the same without him.
1

George Pérez is the best of the best
George Pérez remained a titan in the comics industry. The writer/artist was considered the best of the best, his work in the industry always amazing. A master of detail and composition, Pérez's influence on the industry cannot be denied. His work on The Avengers over the decades, it has become his most well-known Marvel work.
Drawing The Avengers (Vol.1) #141-144, 147-151, 154, 155, 160-162, 167,168, 170, 171, 194-196, and 198-202, Pérez had a huge impact on the series, providing art for the classic "Korvac Saga." He would come back for Avengers (Vol.3) in 1998, drawing problems #1-15, 18-25, and 27-34, his works help people remember why they loved the Avengers after the mid-'90s slump.
NEXT: 10 Most Iconic Avengers Villains