Aesop Sculptures Donated to Rockport Museum | New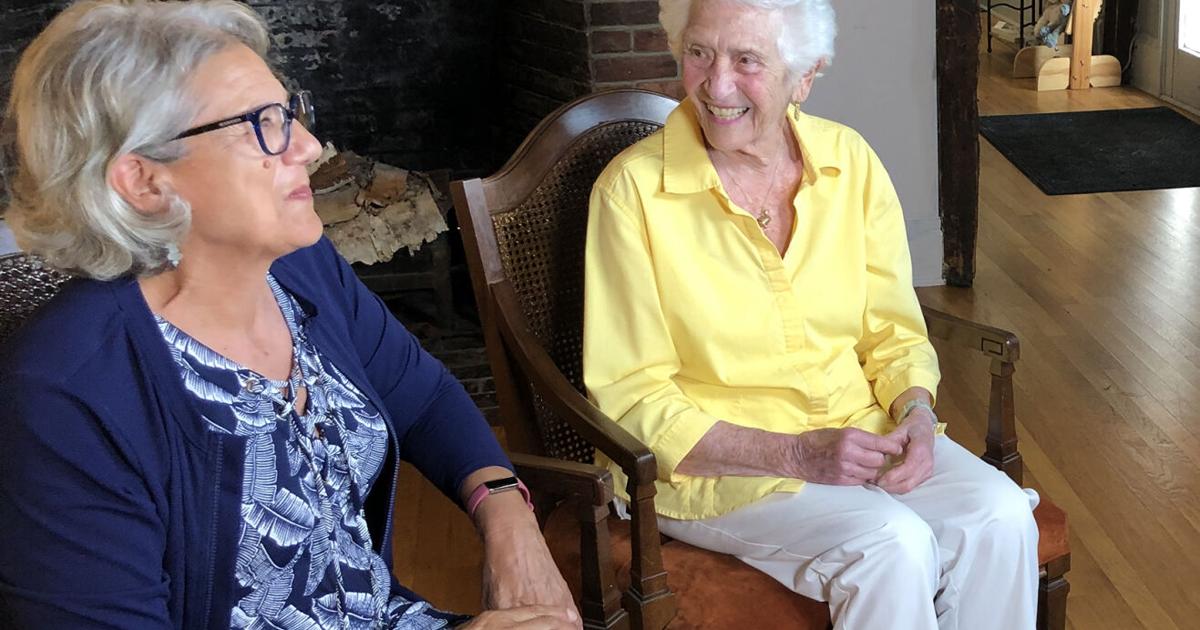 Nancy Schön caused a stir with her beloved public outdoor sculpture, "Make Way for Ducklings," in the Boston Public Garden.
Now 93, Schön continues to make waves with her artwork. Five pieces from his latest series, based on Aesop's Fables, have been donated to Rockport Art Association & Museum through Rockport's Lorraine Horn.
Schön returned to Rockport to say a few words at a recent reception at the historic art association located in the heart of downtown. Prior to the event, a videotape session was held for her to talk about the history of the Aesop series.
One of the new sculptures in the museum is that of the "Turtle and Hare". Schon made a larger version which sits near the end of the Boston Marathon in Copley Square.
"It's a perfect metaphor for the famous Greek marathon run 2,500 years ago," she said. "How perfect was the 'Turtle and Hare' lesson.' The message of the fable, "slow and steady wins the race" is powerful.It was while thinking about my next project that I realized that my sculpture of the tortoise and the hare was taken from an Aesop fable. I believe this is one of my most fascinating sculptures.
Intrigued by the ancient Aesop, Schön sought to learn more.
"I was amazed to find out that he was a Greek slave, who would have been responsible for writing 656 fables. Once I read them, I couldn't stop. Here is a man who was born around 400 BCE and now 2,500 years later, we still quote its moral. I found out there were 24 letters in the Greek alphabet, so I decided this would make a great series.
She has selected 24 fables which marked her and which will be the basis of her next sculptures.
"Each moral seemed as true today as it was the day it was written. I wondered if we humans hadn't changed in all these years? What a powerful and profound message. How is it possible that this man could have been so wise and we still quote him – "Honesty is the best policy", "Look before you jump", "One good trick deserves another", "Even great wealth is worthless if it has no purpose,' 'There is a time to work and a time to play,'" she noted.
Last summer, Horn was moved by an event hosted and hosted by Heidi Caswell Zander at the Rockport Art Association & Museum, where Schön and her friend, bestselling author Anita Diamont, discussed the sculptor's lifelong work. . Horn then purchased five sculptures in this exhibit, with the idea of ​​donating them to the art association during its centenary.
"When I saw these works, I thought how much my grandchildren would love them and be able to touch them, interact with them and learn more about their history," said Horn. "The central idea is to introduce children to the world of art."
The sculptor recalled special memories of her mother reading fairy tales to her and how that influenced her as she reflected on the impact of Aesop's fables, which provided her with an artistic opportunity.
"By chance, when I was starting to create the first sculpture of 'L'Avare', I made him sit on a rock. I realized that my subconscious had told me that the rocks symbolically indicated the timelessness of these fables. Something made of stone is built to last forever," Schön said. "Children are our future and they love these works. They can play with them and learn through the fables.
Karen Koretsky, executive director of the Rockport Art Association & Museum, said the donation is an example of how supporting the artists among us is impacting the many.
"Lorraine Horn was motivated to share the meaning and accessibility of Nancy Schön's sculpture with the children who will visit our remarkable museum. As a result, Garth and Lindsay Greimann have helped create family and school workshops centered around these sculptures, an educational film is being made and people will be encouraged to gather – as they did at the reception – to celebrate art, stories, children and our future. The Rockport Art Association & Museum is honored and grateful to be the recipient of such incredible generosity and vision.
The free family workshops continue on Saturdays until August 13 from 10 a.m. to 11 a.m. Each session includes storytelling and an art activity related to one of Aesop's five fable sculptures. To register and for more details, visit https://www.rockportartassn.org/family-events.
"This program is absolutely wonderful," Schön said. "I am so grateful that these sculptures are donated to the Rockport Art Association & Museum."
In fact, she said she'd be thrilled if all 24 sculptures from Aesop's Fables series ended up in Rockport.