Art exhibition highlights the work of budding artists | Local News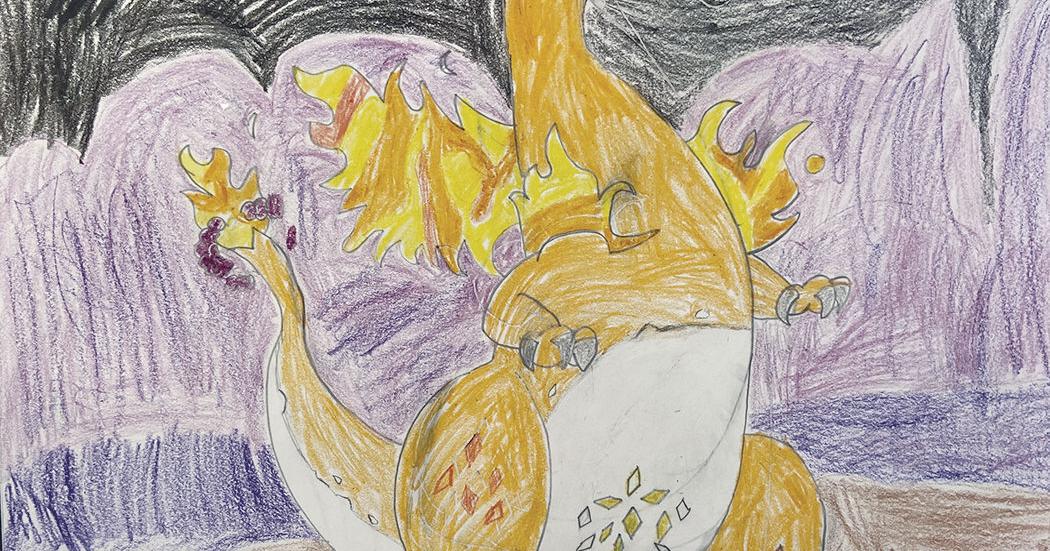 Gabi Nastuck of Latrobe has inspired and taught art to hundreds of people since she opened her Miss Gabi's Art Is Good studio in Latrobe four years ago. They are children and adults, people of all skill levels, students who have come to her studio on Harrison Avenue, those who have watched her classes online, and people of all ages who have attended arts events she organized elsewhere.
A collection of 262 works of art by more than 80 of these artists hangs until the end of May at the Brushes & Beans Café in Murrysville. The performers range in age from 3 to 68 and, she added, "everything else".
Nastuck, 44, had a vision more than four years ago when she was director of the Latrobe Art Center. She wanted to use art as a way for individuals of all abilities to express themselves and develop their talents. She resigned from the gallery to pursue this vision and opened the doors of her studio on April 10, 2018.
The exhibit's opening reception in Murrysville was held on April 10, exactly four years later.
A lot has happened since then. Nastuck has taught people of all ages in his studio, summer camps and online, and has taught groups of people with special needs in his studio, including residents of group homes operated by Acme Providers . Online, she teaches adults in programs at Clelian Heights north of Greensburg, an educational, vocational and residential center for children and adults with developmental disabilities.
Programs for people with special needs were funded by East Suburban Citizens Advocacy (ESCA) of Murrysville. Executive Director Heather Speeney introduced her to Amanda Creps, who, with her husband Mark Clemente, owns Brushes & Beans Cafe, a coffee shop that combines coffee and a ceramic painting studio. As well as offering classes and hosting open-mic nights, the cafe has plenty of wall space to hang art from local talent.
As soon as Nastuck walked in, she knew it would be a perfect place to display her students' work.
Creps agreed. "People who come are so excited about the show," she said. "Then when I talk about Miss Gabi and her students, they take another look to check again. It's been a really popular and sweet show. I like."
Nastuck students are of all levels. Many come from Latrobe and surrounding areas, and from a broader base with the students of Clelian Heights and in group homes. ESCA has also funded online courses that attract people from out of state. Most of the performers, Nastuck said, are between the ages of 7 and 13. Among them are young people who attend a summer art camp, private students and children who participate in the live online classes.
The show was a family affair for Adam and Erin McNeill of Latrobe. Their daughter Adelle, 12, a student at Latrobe Elementary School, was 4 when she took her first lessons at Nastuck, and has been to summer camps and at the studio for private lessons.
The daughter got into the colorful paintings and drawings, as well as her mother. Adam McNeill inscribed a painting and a fish mounted on wood with its scales made from bottle caps.
"They're mostly from Corona beer, and he loved the art of Four Seasons beer, so he made the fins for these beer cans," Erin said.
Her parents, who live in Washington state, also entered the series. Her mother Lynn McNeill, who took Nastuck's virtual group lessons, used driftwood and yarn to make dancers, and her husband got into wooden ducks.
"It's such a great show, and it's amazing the variation in all the work. I also love that it wasn't a juried show, so everyone could enter their pieces," said Erin "I also love having Miss Gabi in our lives. She is so positive and encourages creativity.
Seven-year-old Leighton Means from Derry Township and his grandmother Susan Taft from Latrobe both took lessons from Nastuck and incorporated some of their art into the show. Leighton, a student at Grandview Elementary School, is the daughter of Dorae and Loren Means. His paintings of a mermaid, a monster, a turkey, and a St. Patrick's Day theme were inscribed.
"When we went to the reception, Leighton was at first overwhelmed and then she was impressed by how many people were looking at the art," her mother said.
At home, she hangs her paintings in her playroom and offers some of them to her father to decorate his office.
Carter Griffith, 8, from Derry Township, is in second grade at Grandview Elementary School. He presented two paintings and a pencil drawing. His brother Ashton, 5, also submitted three paintings, and the brothers did one together. Ashton attends the Barbara Thompson Early Literacy Center. The boys are the sons of Mike and Jessica Griffiths.
"They really enjoyed attending opening day and seeing their work on the wall," said their father, who teaches fifth grade at Latrobe Elementary School. "They both love sports, but they also really enjoy sitting and painting or drawing. They are very fond of Miss Gabi too. She brings out the best in our children and she absolutely loves them.
Cassie Revitsky, 9, a student at Baggaley Elementary School, is the daughter of Brian and Becky Revitsky of Unity. Her paintings in the show are one of an octopus and one of two puppies which she calls "A perfect pair".
"It made her proud to showcase her art where people can see it," her mother said. "Cassie loves art, drawing and painting. She loves how Miss Gabi encourages the students and praises their abilities. She is always happy and positive and it makes Cassie feel good about her job.
Ava Lesko, 9, daughter of Melissa and Michael Lesko of Unity, is in third grade at Mountain View Elementary School.
"She's always been into art and always been a very creative girl," her mother said. "She has been going to Miss Gabi's studio for about two years. Miss Gabi was very wonderful and supportive of her and brought her up to help her discover art.
Ava's entries were "Art is Everywhere", which features a collection of mini-pictures, and "Rainbow Delight". Her dog portrait, titled "Doggy Doodle," sold for $25.
"She was so excited," Lesko said.
More than 34 works of art were sold, but not everyone wanted to part with their creations.
"I tell them if you want to be an artist, you have to share your work with others," Nastuck said. "They want to keep it, but that's what artists do. We sell our work so others can enjoy it too.
The exhibition was a tribute to his goals over the past four years to nurture talent and foster a love for the arts in people of all ages and abilities.
"It's really awesome," she said of the show. "It's so cool as a teacher or instructor to be able to follow the kids from year to year and watch them grow not just in the arts, but as a person. That's my love, and that's what I like to do.
Brushes & Beans Café is located at 4550 William Penn Highway, Murrysville. For more information on Nastuck, check out Miss Gabi's Art Is Good Studio on Facebook or missgabisartstudio.com.