Audi designer creates cool sculptures inspired by Auto Union race cars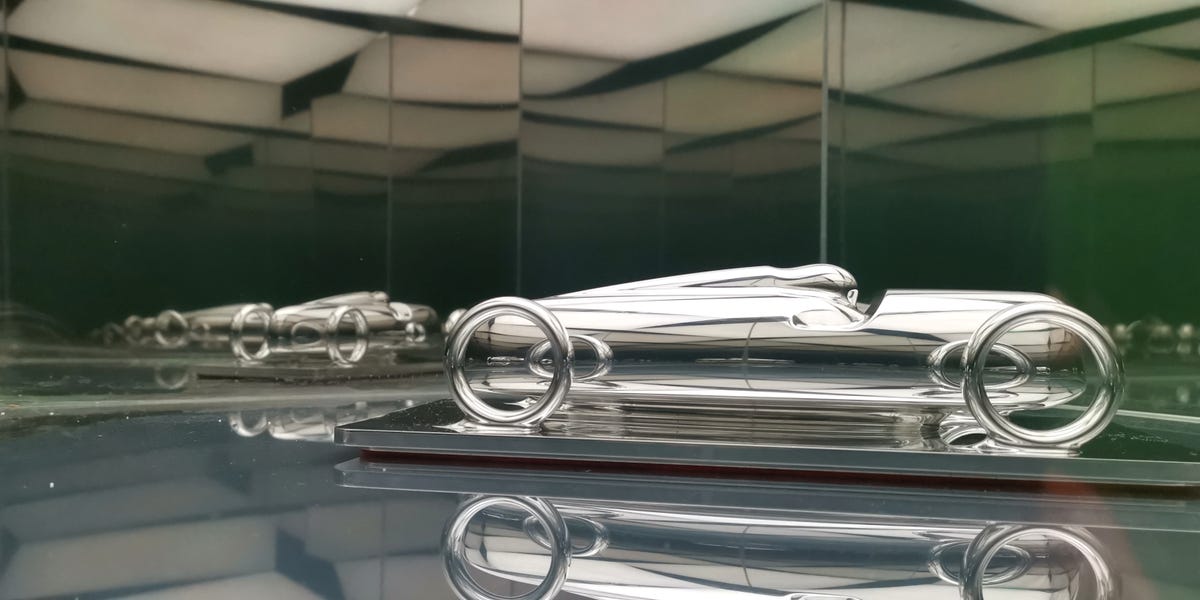 Usually form follows function, especially when you are designing a car. This is because you must meet certain parameters set by engineers, ergonomists, DOT and EPA. When you're just creating art, however, the form doesn't have to follow anything other than its own inspiration.
So when Audi designer Michael Etrick embarked on a side project on his own, far from the confines of the studio, he was free to seek inspiration wherever he found it. In this case, he drew inspiration from a shape from his employer's past, the 1936 Auto Union Type C.
"If you're going to do an iconic Audi-related vehicle, the 1936 Auto Union Type C would be the one," Etrick said.
The Type C Grand Prix racing car was the third model from the newly created Auto Union, which was formed by combining existing car manufacturers Audi, Horsch, DKW and Wanderer in 1932. Auto Union Grand Prix racing cars were designed by none other than Ferdinand Porsche. They were revolutionary, among the first racing cars to successfully put the engine behind the driver. And what an engine! The Type C was powered by a supercharged six-liter V16 developing 550 horsepower. Remember, this was back in the 1930s when 550hp was not available in any SUV. The whole car, engine and all, weighed less than 750 kg or 1653 pounds.
This era of Grand Prix was exciting, made up of machines never before designed by mere humans. The Type C took on Alfa Romeo 12C-36s, Maserati V8RIs, Bugatti 59/50s and Mercedes-Benz's mighty Silver Arrows. What an era. And what an inspiration for a designer/artist.
Etrick starts from a solid block of TC 6061 aluminum and machines everything that does not coincide with his vision. So don't expect an exact replica of the real car, just inspiration from it.
"Auto Union Tribute's solid, polished sculptures are ideal, organic shapes inspired by Type C race cars of a bygone era that add beauty and excitement to any setting," its press kit reads. "Yet being an automotive enthusiast is not necessary to fully appreciate Etrick Art pieces. In addition, the mirror finish of the material combined with flowing shapes masterfully reflects the light, hence the name of this series (the Reflects series). The sculptures are currently available in two sizes, the incredibly larger piece weighs over 300 pounds.
This last model is the one you want.
"A massive six-axis mill cuts through a block of TC 6061 aluminum, revealing the mass of metal," Etrick explains. "Once this raw work of art is removed from the milling machine, the entire sculpture undergoes intensive hand work to refine, polish, assemble and finish the work of art. The whole sculpture requires hundreds of hours of work, turning this vision into brilliant reality.
You can get the 48-inch-long (four-foot!) Type C quarter scale for a whopping $60,000. If that's too expensive, consider the 12-inch-long 1/16 scale C Desktop for just $3900. Some of us have birthdays coming up, you know, and what better way to show your appreciation than an Auto Union Type C? I'll be sitting by the mailbox…
This content is created and maintained by a third party, and uploaded to this page to help users provide their email addresses. You may be able to find more information about this and similar content on piano.io