barbara franc transforms old textiles into patchwork animal sculptures
BARBARA FRANC REUSES A COLLECTION OF ANTIQUE AND VINTAGE TEXTILES
London artist Barbara Frank carefully constructs animal sculptures made of discarded materials like metal, textiles and everyday objects like kitchen utensils or guitar strings, among others. Title Shaggy Dogs and other fabric creatures, her latest series reuses a large collection of antique and vintage textiles.
"As a sculptor, I continually enjoy playing with different media and exploring what they can do for me," said Baraba Frank. 'I will often get the gem of an idea for a new piece just by picking up a discarded piece of metal, for example a jam jar lid could turn into a flower head or a cat part! Maybe I'll have bits of sheet lead, which I'll start "sewing" together, and they'll start to morph into the idea of ​​making a corset out of this soft, malleable metal.
PATCHWORK DOGS, HARES AND RATS
Fascinated by the shapes and forms of animals, Barbara Franc draws inspiration from them for her pieces. His sculptures use wire as a base, suggesting a three-dimensional design. She continues to cover the metal structure with recycled materials, giving them a second life.
"I like working with different gauges of wire and mesh because they respond very directly and immediately to my ideas, and it becomes like a three-dimensional drawing," Frank continued. "I often work first on the form without a rigid armature supporting the wire, this gives me greater freedom to change the posture of the sculpture and keep it alive. When I've decided how I want it to stand, I'll then thread stiffer wire to become the armature. I can accentuate some lines through the use of resin and different gauges of wire, some pieces I leave in their metallic finish and others I color with enamel or clear plastic glass paints.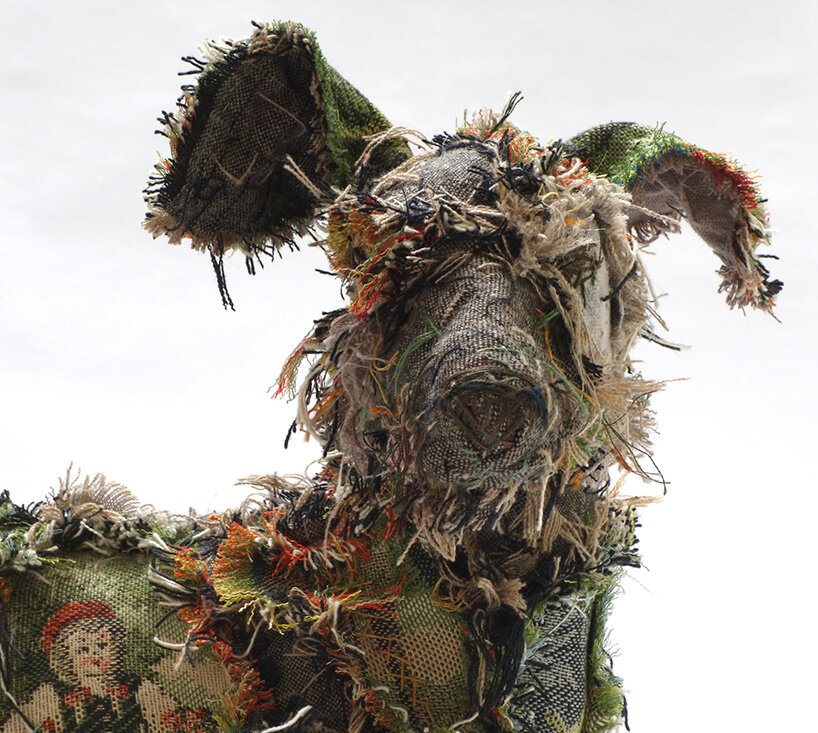 For the shaggy dogs series, the artist has used her own pet as inspiration, stating that he frequently models for her. The sculptures were covered with her own daughter's old pants, a friend's old curtains, and her grandmother's old tapestry, among other textiles. The patchwork series also includes a hare and two rats.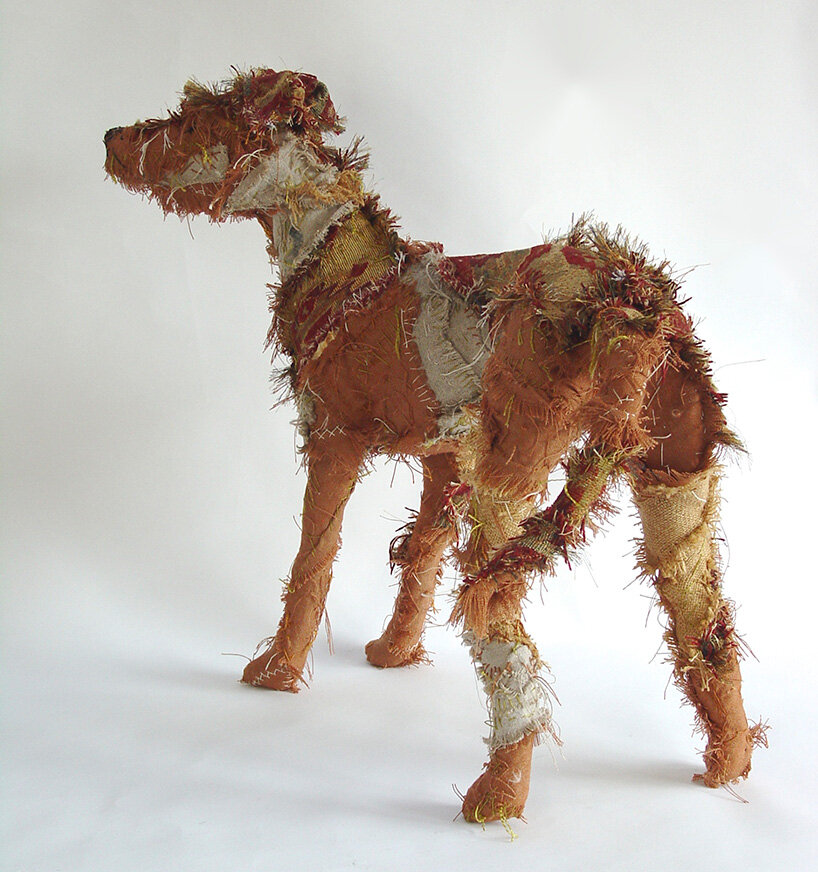 Most unique pieces are created for private or corporate commissions, and she is represented by several galleries. The artist says she is open to any request for work, "If you would like some valuable personal items, which normally sit in drawers, to have a new purpose and be seen every day, please contact us."