Carmi, IL Student Wins Congressional District Artwork Contest Honors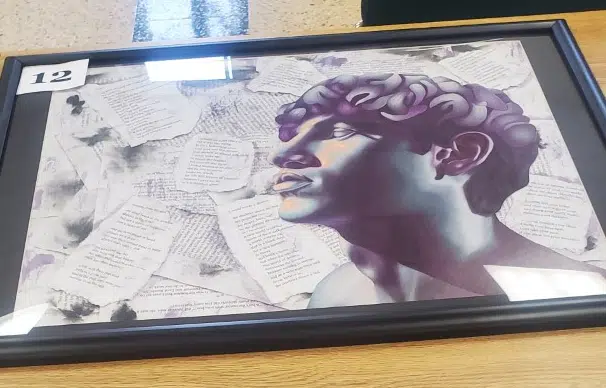 Artwork submitted by high school students across Congresswoman Mary Millers' district was displayed at the Danville Area Community College Student Union on Tuesday. The judges determined that the winner was Gage Atteberry from Carmi, IL for his work entitled "Petrification". , Atteberry's artwork will be on display at the United States Capitol for one year, along with all of the other Congressional District winners.
But as Sally Nyhan Davis, Deputy District Manager for Congresswoman Miller, explains, there will be another winner chosen by the people.
AUDIO: All of this will be posted on the MP's official website, and people will make a "people's choice" award. And so we will have two winners.
(Left and right) Winning artwork by Gage Atteberry of Carmi, IL. (Center) Other artwork submitted.
Nyhan-Davis added that this year's student artwork definitely had a more positive overall feeling than the past two years.
AUDIO: They are quite spectacular. And I'll tell you, there's a much happier element now that COVID has advanced a bit.
Go to MaryMiller.House.Gov to vote for your favorite piece of art by high school students in the district. A total of 14 plays were submitted across the district's 33 counties.
HERE'S MORE ABOUT THE WINNER:
The winning piece was Petrification a mixed media (color pencil and collage) by Gage Atteberry of Carmi, IL. He is in 11th grade. The little pieces of paper are torn pieces from his original poems. The piece depicts the transformation into stone after long exposure to loneliness.
His piece will now hang in the United States Capitol for next year and he will receive $500 to offset the cost of going to see it hanged in person.
The finalist was timeless love, a colored pencil piece by Genesis Campbell of St. Francisville, IL. She is a high school student. It is a portrait of her great-grandmother holding the child artist. After poster week, this piece will travel to Washington and hang in the congresswoman's office.
The judges for the event were Professor Ronnie Johnson; Dr. Lily Siu; Bruce Boesma; Sue Mosiman; and Nancy Ruwe.
The remaining pieces will be hung at the Student Union until Monday morning, May 9.