'Enlightened Array': Carnegie Exhibit Features Paintings by Two North Alabama Artists |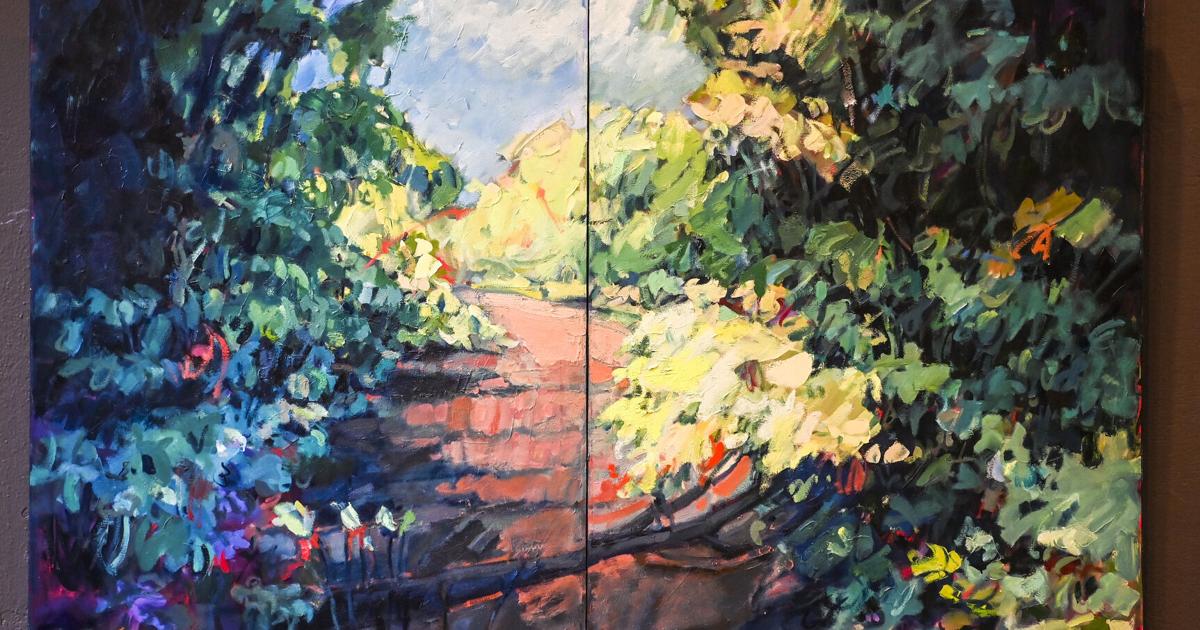 From impressionistic landscapes to abstract paintings, the Carnegie Visual Arts Center's new exhibit features acrylic, oil and pastel works by two northern Alabama artists.
Scenes from France, India and South Carolina join still life images of English roses, orchids and sunflowers and bold abstract compositions combining reds, oranges, greens, yellows and blues to fill the "Enlightened Array" exhibit at the downtown Decatur art space.
The 60-plus piece exhibit, featuring works by Elaine Augustine of Florence and JoAnn Bugg of Huntsville, will remain on display until September 12 at Carnegie, 207 Church St. NE
For Augustine, the selection of works to exhibit proved difficult.
"It was tough. I had a lot of choices. I still have a few pieces that I did when I was 8 or 9. I kept making changes until the very last minute," said Augustine, whose works include abstract and figurative oils, pastels and acrylics, "A lot of what hangs at Carnegie is works that hang on my walls."
One of Augustine's first pieces on display, "Water's Edge," an abstract oil painting created in 1998, features bold brushstrokes of orange, yellow, blue, green, and white.
"I find inspiration in colors, shapes and figures," Augustine said.
The pieces represent a lifetime of creation for Augustine, whose first art memory is receiving paint-by-number sets for birthdays and holidays.
"Instead of doing the painted-by-number image, I would turn the paper over and use the little things in the paint and paint my own image," said Augustine, whose great-grandmother worked as a professional photographer. in the late 1800s. "I would also create my own games. I would take a large piece of butcher paper and draw a river with a fort and army people on one side and tepees on the other side.
At age 12, Augustine took private art lessons from a woman who taught outside her home. There Augustine, who grew up to run a business with her husband of 46 years and raise four children, learned to balance art, work and family.
"The teacher was teaching in a room in her house while being a mother. She would have her family all around her and cook at the same time. She taught me that art could be part of your life without it being the total goal," Augustine said.
While working and raising her children, Augustine occasionally took art classes at the University of North Alabama and painted after work and on weekends. When the business closed, Augustine enrolled in more classes and graduated from UNA in 2020 with a degree in art.
Augustine, one of the Pastel Society of America's 150 master pastel artists, has exhibited pieces in New York, California, and Birmingham. She also created an abstract painting selected for the Second China Biennale International Pastel Exhibition which was exhibited at the Ming Gallery in Suzhou, China, and toured museums and galleries nationwide.
"This piece started out as a pastel painting of cows under a tree. I didn't like it, so I took it to the kitchen sink, washed all the pastel off, but ended up with a ghost image. When it was dry, I flipped it over so I didn't end up with a picture of trees and cows. It ended as a summary and was one of 10 pieces selected for the exhibition in Suzhou," Augustine said.
—
'addicted to the workshop'
Bugg's earliest artistic memory dates back to fourth grade when she saw her father drawing caricatures.
"I was hypnotized by it and started drawing. When my father, who was in the air force, was sent to Europe, I continued to draw. It wasn't until I I started college at the University of Alabama at Huntsville that I started painting," Bugg said.
Driven by practicality, in college Bugg chose to pursue a degree in graphic design rather than art.
"I was very hands-on so I could make a living," Bugg said.
After retiring from his careers in graphic design and interior design, Bugg pursued his first love – drawing and painting. In 2012, she began attending Master Artist Series workshops at the Huntsville Museum of Art. She continues to attend workshops today.
"At some point you would think I might quit, but I keep taking classes. I consider myself a studio junkie," said Bugg, who described herself as an impressionist realist.
During her studies, Bugg found herself drawn to oils.
"Unlike watercolor, where it can get away from you quickly and you can't recover, you can just keep painting over oils. I like that they're very forgiving and permanent. They're also pretty sturdy. You can get caught in the rain and have no problem. If it was watercolor, there would be a problem," Bugg said.
His pieces at Carnegie include still lifes of oranges and flowers, landscapes of Pawley's Island in South Carolina, street scenes from India and France, and portraits.
"I'm inspired by all kinds of things in the natural world. God created such a beautiful place for us and I'm just inspired by it all," Bugg said.
The public can view the "Enlightened Array" exhibit at Carnegie, Tuesday through Friday, 10 a.m. to 5 p.m. and Saturday, 10 a.m. to 2 p.m. Admission is free with donations accepted.