Gentle Glass: Captivating simplicity and elegance through sculptures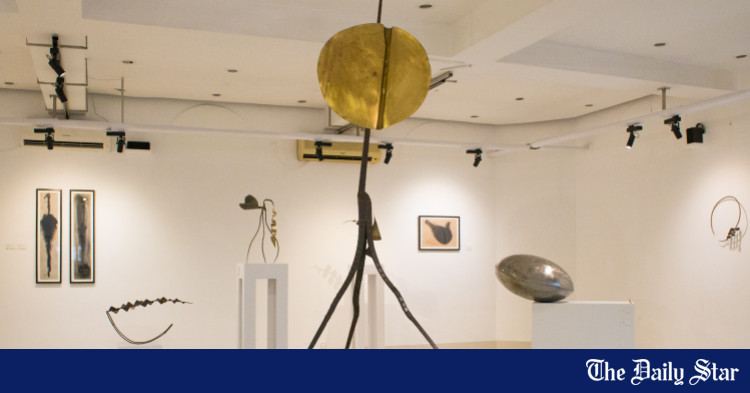 SM Saha Anisuzzaman Faroque's first solo exhibition of sculpture and painting, "Gentle Grass" opened at La Galerie, Alliance Française in Dhaka on August 19th.
The event was honored by the presence of eminent sculptor Prof Hamiduzzaman Khan, Prof Lala Rukh Selim, Department of Sculpture, Faculty of Fine Arts, University of Dhaka, and Prof Manosh Chowdhury, Department of Anthropology, Faculty of Science Socials, Jahangirnagar University as special guests.
Born in Moheshkhali, Cox's Bazar, Anisuzzaman Faroque is an emerging artist who completed his BFA and MFA, specializing in sculpture.
Professor Selim showed his appreciation for the artist in his speech at the inaugural ceremony. "Anisuzzaman's work oscillates rhythmically in water and air. The perfect balance of lines and shapes, and the interplay between the forces of nature and organic structures shown in Faroque's work in a pulsating manner wowed me," he said in his speech at the event.
Metal sculptures of various sizes and shapes are neatly arranged in the gallery. According to Faroque, his works are fragments of his life, accumulated over the past 12 years. Harmoniously merging the simplicity of life with nature, he lives to create spontaneous works of art.
The first piece that will catch the eye of gallery visitors is a tiny iron sculpture, which the artist named "Grass Flower I and II". Inspired by fragile grass flowers, the artist decided to make them with iron, making them strong in their being.
Next is "A Gentle Iron Grass" – a delicate blade of grass complemented by iron rods – protecting the fragile piece with iron armor.
"Hanging Moon I" is the tallest sculpture in the middle of the gallery, inspired by the sight of a tower that splits the moon in two. "Hanging Moon II", a small sculpture in the shape of a chime, which resembles the visual of a butterfly with a vine carrying the moon, is also worth a pause when you decide to pass by. These two charming pieces are made of bronze and iron.
The most intriguing element of Faroque's sculptures is the structural stability he achieved through less cover on flat surfaces. The huge "underwater iron plant" stands firmly on the ground when the upper part is buoyant and flexible like real aquatic plants.
With an ethereal shape and alluring bronze surfaces, "Special Child I & II" are pieces inspired by her favorite parents. "Very Complicated Chair" looks like a small seating area with a flower petal backrest, as if made for a fairy.
The "Flying Iron Wings" series features three dynamic iron compositions of straight and curved lines with triangles with curved edges. "Nocturnal Vast Swamps" in bronze features a wonderful pair of flowers magically standing on one leg each, without any external support.
The exhibition "Orchid flower in bird's beak" comes from the artist's precious orchids, and his memory of the heron birds of his village.
The paintings featured in the exhibition are charcoal abstractions on paper, illustrating Faroque's thought process. In simpler terms, all his works are the embodiment of simplicity, elegance and sensitivity.
The exhibition is open to everyone until August 30. All exhibits are for sale.