Get a big dose of inspiration with the Young Artists of Hawaii exhibit at the Hawai'i State Art Museum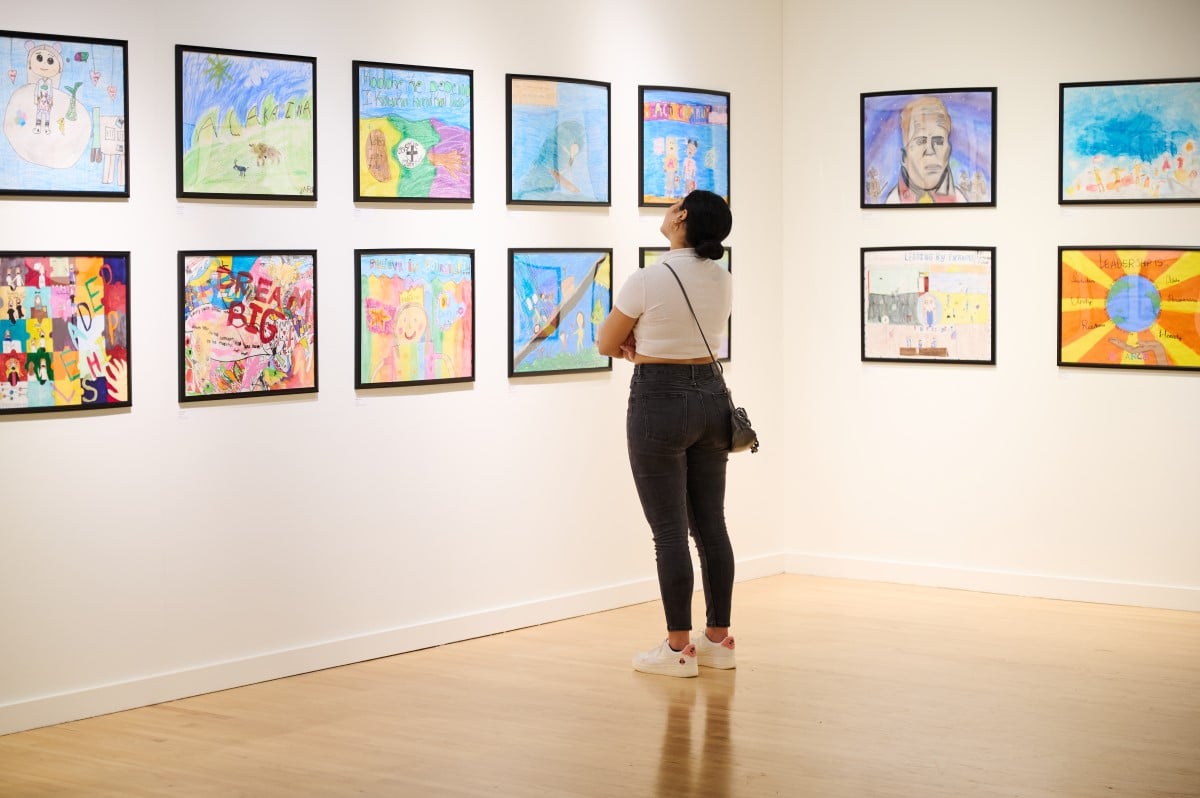 HiSAM's annual Young Artists of Hawai'i Expo is changing things up: The theme for this year's event is "What Does Good Leadership Look Like?" It replaces the theme of celebrating Hawai'i's cultural diversity through the eyes of our keiki and marks the first theme change in the exhibit's 24-year history.
Change was born out of a partnership with Aaron Salā and Monte McComber of The Native Imaginative, a local non-profit organization. "When we began planning our student exhibits for the 2021 and 2022 school years, we wanted to breathe new life into our existing Hawaii young artist programming to truly challenge our student artists in a way that went beyond simple visual. arts," says HiSAM project manager Kamakani Konia.
To help teachers with the new theme and allow students to broaden their experience throughout the process, the competition provided them with a reading list for additional enrichment and prompts for lively class discussions on leadership and leadership. community action. "What we've noticed over the years is that it's sometimes difficult for schools to implement 'art for art's sake' into their lesson plans," says Konia. "For some teachers, any kind of classroom exploration in the visual arts must be accompanied by additional material from the math or reading sections, which is why we are really grateful to be able to offer this kind of opportunity to their children."
SEE ALSO: Hawaii Triennial 2022 Takes Over HiSAM Exhibit Spaces
A total of 420 applications were submitted by 12 schools across the islands. This year's jury consisted of Makanani Sala, Executive Director of the Mayor's Office of Culture and the Arts; KHON2 presenter Kamaka Pili; and award-winning Hawaiian musician Raiatea Helm. The judges focused on how the students interpreted the competition theme in their works while incorporating elements of color and design. The 96 works selected are full of bright colors and positive messages worthy of a museum space. Konia hopes that those who view the exhibit "will see how our students see themselves as future leaders in their communities and how they realize that their world extends far beyond themselves."
This juried art competition was established in 1998 by the Hawaii State Foundation for Culture and the Arts and the Hawaii Tourism Authority and was developed in cooperation with the Department of Education and the Hawaii Independent Schools Association. Replicas of the winning artworks are also displayed for an entire year in the Pā Kamali'i Court of the Hawai'i Convention Center for visitors from around the world to view.
Konia is especially excited about the number of students who participated and is grateful to the educators who donated valuable classroom time to give students a chance to "celebrate their creative accomplishments during class time." Students took part in meaningful discussions about the qualities of good leadership and where they could find inspiring leaders in their own families, classrooms, schools, neighborhoods and global communities. Although the theme is serious, much of the art reflects the whimsical imagery that often springs from young minds. One play that stood out for Konia was Curious George Washington by Jonah Castellano of Helemano Elementary School. "There's just something about a monkey in a powdered wig swinging a banana sword that just makes you want to smile."
Exhibit runs through June 11, Hawai'i State Art Museum, 250 S. Hotel St. Open Monday-Saturday 10 a.m.-4 p.m. (closed Memorial Day), free admission. hisam.hawaii.gov, @hawaiistateartmuseum
Lisa Shiroma is a correspondent for HiSAM and is an artist and art educator. Lisa is the former owner of the HiSAM Museum Gallery Shop, which she ran with partners Aly Ishikuni-Sasaki and Travis Sasaki of Mori by Art + Flea from 2017 to June 2020.