Letchworth Bridge Lives Through Iron Sculptures | Featured story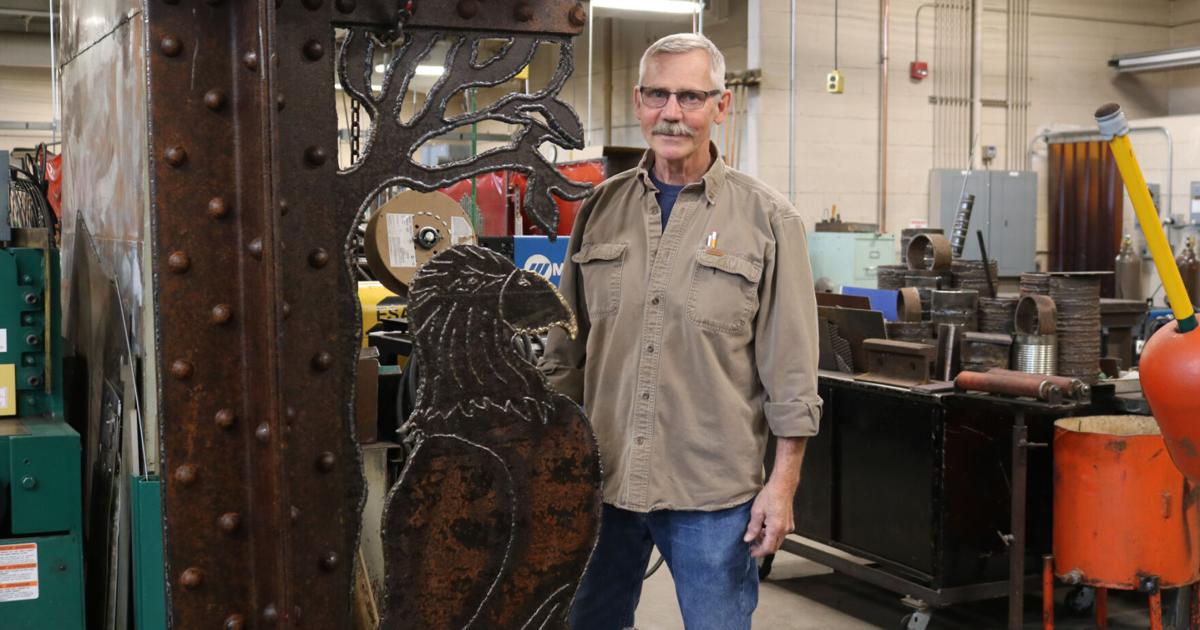 Students in the metalworking trades program at the Genesee Valley BOCES Mount Morris Career and Technical Education Center have created two large sculptures made with historic iron of the 1875 bridge that crossed the Genesee River in Letchworth State Park.
The two sculptures represent a bear and its two cubs and a bald eagle perched in a tree.
"These are children practicing their skills in art, in metal tools, but creating art that will preserve history. And to me, that's very unique about this one, because it's really something," said Olie Olson, metalwork trades instructor. "You know, this stuff isn't going away anytime soon, is it?" So years and years from now, long after I and most of us are gone, it's going to exist and it would be one of the few memories people have of that trestle.
The students who worked on the bears were Tyler Jordan from Wayland-Cohocton Central School and Andrew James from Keshequa Central School. The students who worked on the eagle sculpture were Keegan Casagrande and Michael Adkins Jr. of Avon.
A sculpture previously made by students from the Genesee Valley BOCES Metal Trades Program can be seen in the Upper Falls parking lot in Letchworth State Park, just below the new bridge. The sculpture is an arch made of the same iron as the old bridge, similar to these two new sculptures.
"It was all that we were going to scrap or we melted down and used for something else and we took it and were able to create them," Olson said, pointing to the sculptures.
The iron was donated by the Norfolk Southern, the railway that owns and replaced the 142-year-old Portageville railway bridge, known as the Portage Viaduct, which had reached the end of its lifespan.
The new bridge, which saw its first train cross on December 11, 2017, is a steel and concrete arch bridge known as the Genesee Arch Bridge.
The students were able to use a piece of iron over 50 feet long from the old bridge to make the sculptures.
The students were able to use the skills learned in class and practice a real application of those skills to create the sculptures.
The details of both sculptures were made with soapstone and other welding techniques that Olson taught the students throughout the program.
"So when they talk about having to replace the bridge, what were the engineers looking at?" Olson said while pointing out the skills the students learned to cut and create these sculptures. "That's what they were looking at. It won't last forever, but what they've done here will last for generations to come and the kids who worked there can tell.
Students were able to practice and adapt the skills they had learned, from cutting large pieces of thick material, to understanding the speed and angle they needed to make those cuts, the types of materials they they could cut or weld, even understand the importance of symmetry and balance when it comes to this trade.
Matthew Flowers, Executive Director of Genesee Valley BOCES Mount Morris Campus, said this practical application of skills and theories taught in the classroom is an invaluable skill to possess.
Flowers said everyone learns the program in the classroom, but not everyone gets the hands-on experience Genesee Valley BOCES students can get.
Olson didn't like to talk about his role in making these sculptures, but instead wanted to acknowledge the hard work and dedication of the students.
"Learning to take pride in their work, well, there is no course that teaches that. That pride is what they carry from here into the real world, into the game of life," Olson said.
Loren Penman, one of the co-founders of the Autism Nature Trail, or ANT, which opened in October 2021, was instrumental in acquiring the metal and Olson explained how sculptures created with iron are remained attached to Letchworth State Park. .
The Autism Nature Trail at Letchworth State Park is a one-of-a-kind, ADA-compliant trail designed to support and encourage sensory perception while providing enjoyable activities for visitors of all skill levels and of all ages.
The project has raised over $3.5 million and involves raising funds to ensure the longevity of a trail that is actively used. The sculptures will be auctioned with the aim of donating the money to ANT.
Penman said these sculptures were not only a great way to teach students how to give back to their communities, but they were a great way to reuse materials that might be going to waste.
"It's art that will preserve history," Penman said.
For now, both sculptures will be on display at the Perry Central School until their auction, along with a sculpture recently made by other students in the metal crafts program to celebrate Perry's involvement in the 'Autism Nature Trail.
"I don't know where they'll end up, but I hope it won't be hidden. That would be my hope is that it's a place where they can be enjoyed by everyone and appreciated," Olson said. "It's really nice to see the students when they can stand up and say – with the auctions we've done in the past – the artist is standing next to the room, and people are bidding on it and it doesn't No matter what it does, students get recognition.