Lewes Commission in search of permanent works of art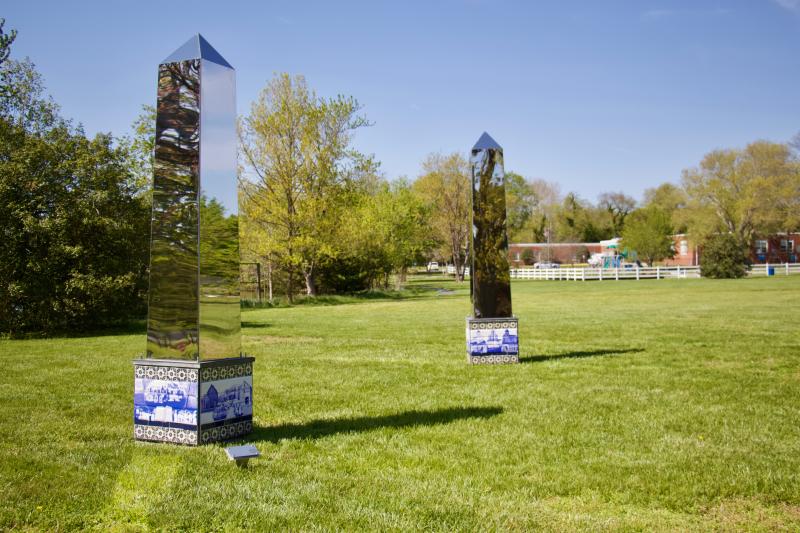 At the base of the missing Rose DeSiano monuments in George H. P. Smith Park this summer were tiles containing images of marginalized groups in Lewes history. African Americans, Native Americans, and shipbuilders from the Zwaanendael community were some of the lives seen on the temporary sculptures.
Unfortunately, DeSiano said the composition of the tiles prevented their conservation after residents of Lewes inquired about their conservation after their removal in October.
The monuments were installed temporarily by the Lewes Public Art Committee. Designed to be observed from spring until early fall, the artist never had to flip the tiles or build them to last longer than the contracted months.
The committee installs temporary works of art on public land each year in an effort to educate residents and visitors about art and its relationship to the first city in the first state. For the monuments, DeSiano used photographs found by Trina Brown-Hicks depicting the lives of minority groups throughout the city's history. Brown-Hicks was one of the first to question the preservation of tiles.
At the Lewes African American Heritage Commission meeting on October 20, Brown-Hicks, who is a commissioner, briefed the group on the fate of the tiles. While the result was not in their favor, Reverend Deborah McCaffity, vice president, praised the idea of ​​preserving the tiles. Brown-Hicks added that the commission receives a budget and may consider planning a permanent piece.
To that end, McCaffity asked commission members to pursue the idea of ​​commissioning a permanent piece. Brown-Hicks noted that if they were to place anything in the parks, it would have to go through the Parks and Recreation Commission and the Public Art Committee. Commissioners agreed they could also look at other places outside of the parks. DeSiano is willing to work with Lewes to make a permanent part at cost.