Linton's planted sculptures for sliding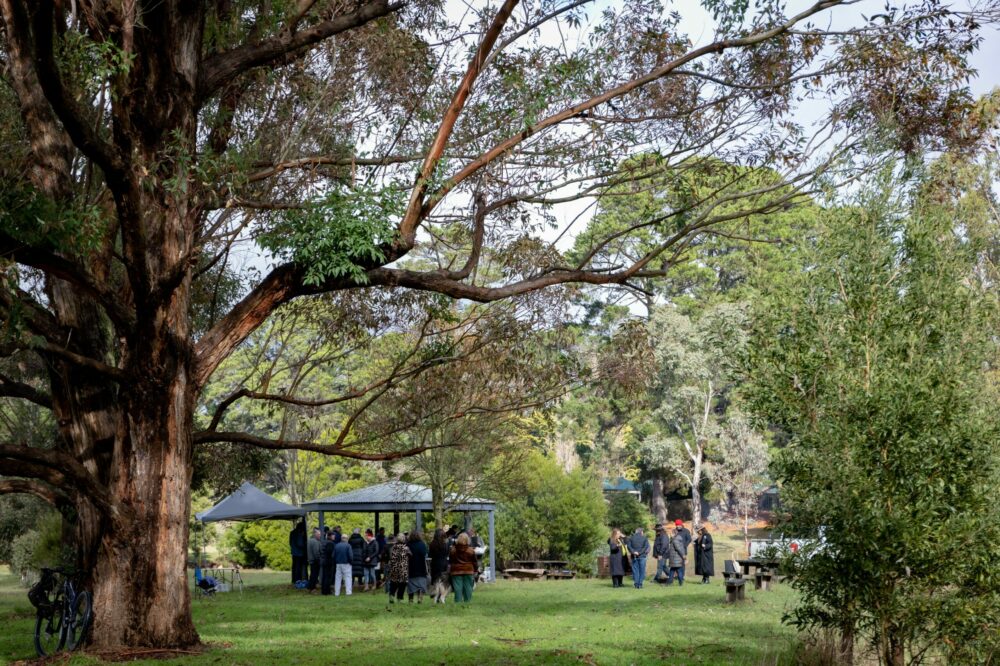 LINTON's new living sculpture project is taking shape to weave through Edinburgh's reserve like crawling animals.
Wadawurrung artist Kait James and fellow creator Forest Keegel are working with Linton residents and traditional owners to develop an endemic native plant community that will respect the living First Nations culture of the area.
Following an official launch earlier this month and workshops with community members and pupils from Linton Primary School, over 1,000 native plants are set to be planted in the soil of the reserve as settlers' "act of reparation".
Some will be planted together to form a large snake 23 meters long weaving around old gum trees, while the rest will be planted closer to the pond area to represent an eel, about 13 meters.
"The big snake, kadakwill face Snake Valley, and the eel, Buniyawill feature lots of grass, facing the direction of the ocean," James said.
"When we were developing ideas, we came across a local story at the Linton Historical Society. There was a recording of a man from Linton asking the men of Wadawurrung to carve serpent shapes, the same as they carve on their shields, into the verandah supports of a house.
"I thought it was a great idea to follow as we work together again after so long. This is a great opportunity to bring Wadawurrung culture back to Linton.
James said workshop participants wanted to learn more about the Wadawurrung peoples' uses for certain plants and the stories behind them.
They expressed interest in planting hyper-local native species in the area, especially edible plants, and would like to know more about propagation.
"We plan for the planted mounds to become a seed bank, so they can have these plants in their own gardens. They will also learn how to propagate them," she said.
James is developing signage to better inform visitors to the reserve about the Wadawurrung culture.
Keegel said the community is committed to beautifying the reserve, enhancing its biodiversity and caring for it in an "imaginative and creative" way.
"People are very excited about planting and watering, so much so that we're also installing a small permanent stainless steel tank," she said.
"This project is a chance for them to think about what else they might want to do in the future, and then we can collect some of it and pass it on to their Progress Association."
Golden Plains Shire received a $30,000 grant from the federal government's Regional Arts Fund to complete the project.
Wadawurrung traditional owner Barry Gilson launched the living sculpture initiative in the Edinburgh reserve earlier this month.
Fifty people gathered to learn, enjoy a barbecue, hear Mr. Gilson sing, and watch him clean up and clear the site with a smoking ceremony.
Some project development work is on display in the atrium of the Linton Community Hub, and a suggestion box is there to receive other ideas.
Plantings are expected to begin in early spring with a celebratory event scheduled for Saturday, September 3.
An eight-minute documentary is being made about Linton's living sculpture project, which Keegel says will support the community when they apply for additional environmental or arts funding in the future.