New Joplin Mural Honors 11 Black Artists and Performers | Local News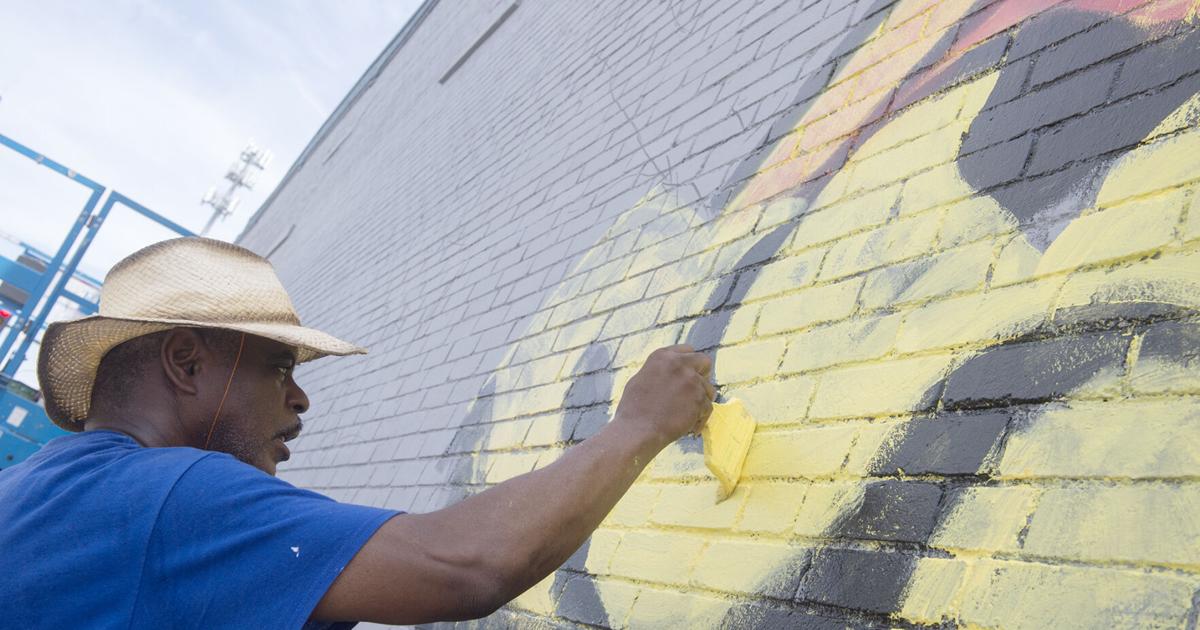 A mural of historic black figures and artists who performed in Joplin will soon cover the north wall of Bruce's Point of View Optical at the corner of Main and First streets as a tribute to the sacrifices they made during the time of the segregation.
The mural is spearheaded by the Langston Hughes Cultural Society, a local nonprofit that has raised nearly $15,000 in donations for the project. The mural will measure approximately 30 feet by 65 feet when completed later this summer.
Nanda Nunnelly, founding board member of the group, said they were aiming for $20,000 to $25,000 to complete the mural. The fundraiser was launched at an event earlier this year when jazz saxophonist Charles McPherson returned home to Joplin to perform for two nights.
"The mural really started with the 'Charles McPherson: The Journey Home' project that we worked on (in February) to bring Mr. McPherson home, which was born out of the idea of ​​honoring so many diverse people as possible in our downtown area," Nunelly said. "Thinking of other ways to honor him, the idea came to me to do a mural, so of course I contacted his wife (Lynn), and she was absolutely thrilled with the idea."
McPherson, 82, said the event earlier this year was his first time in Joplin since the late 1940s, when he left aged 9. He described the racial restrictions he faced as a child in the South and all that had changed over the decades.
"It was very different when I was a kid," he said. "When I used to take a train, we had to get on a certain car. Joplin was a product of his time, so you had the Jim Crow era. But being honored now in this same town where I couldn't even go to the same theatre, it's interesting.
The mural will depict 11 black artists and activists who left their mark on Joplin during a time of racial segregation in America: McPherson; composer and pianist Scott Joplin; jazz composer and pianist Duke Ellington; contralto and civil rights activist Marian Anderson; performer and singer Melissa F. Cuther; singer Ella Fitzgerald; jazz performer Dizzy Gillespie; interpreter Cab Calloway; the poet Langston Hughes; artist Sammy Davis Jr.; and singer Mamie Smith.
"At that time, jazz music was even more powerful because that's all we had," McPherson said. "It produced great musicians who changed the world because those people weren't just artists, but they were really talented. For us, the black community, there were a lot of things you couldn't do. , like being a nuclear physicist, but with music and art you could do it, so it was a medium for artistic expression and musical expression. It's very powerful because it's based on the spectrum human emotions. This music expressed the human condition, and that's why it was powerful in its own way."
Kansas City artist Alexander Austin is the painter behind the mural. Austin has painted hundreds of murals over the past 35 years and said he had nostalgic feelings with Joplin's piece.
"I think of my parents a lot when I paint the mural, and I think of my mom cleaning up and singing Ella Fitzgerald and snapping her fingers at Scott Joplin and all those other great artists," Austin said. "I'm enjoying it a lot."
Segregation in Missouri
The Missouri Supreme Court ruled in Lehew v. Brummell in 1890 that separate schools were not in conflict with the US Constitution. Six years later, the United States Supreme Court ruled in Plessy v. Ferguson that segregation was constitutional, establishing the idea of ​​"separate but equal".
U.S. Census records show Joplin's black population was 801 of 32,073 in 1910. Legal segregation remained in public schools until the landmark U.S. Supreme Court decision in Brown v. Board of Education in 1954.
"We wanted to shine a light not only on these incredible artists and performers, but also what they had to deal with in terms of racism, prejudice in the time when they were practicing their craft," Nunnelly said. "Nearly all of the people in the mural who performed in Joplin were not allowed to stay in hotels and either had to stay in private homes or endure some kind of 'otherness' because of the color of their skin."
Lincoln School, which was Joplin's only school for African American residents for 65 years prior to integration, will be featured in the mural design. Joplin Uplift, an African-American newspaper, will also be written on top of the mural.
"It's always important to have representation and to be able to share knowledge," Nunnelly said. "I thought of this project as a way to start conversations, and it is. As soon as we started sharing what we were doing, there were people who had no idea that these artists were happening in Joplin. If it's not broadcast and shared with the community, then they won't know about it.