On display: See images of Akinsanya Kambon's Pan-African inspired ceramic sculptures at Jack Shainman Gallery in New York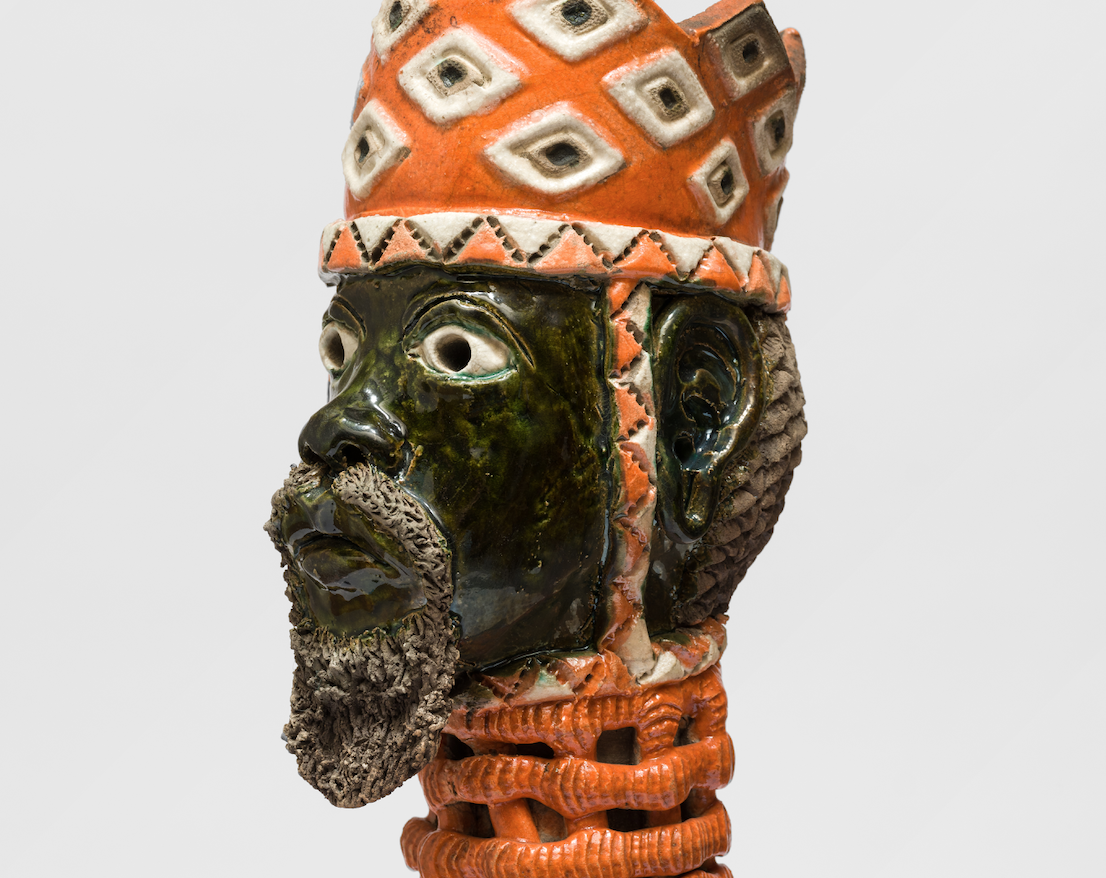 Ceramic works by Akinsanya Kambon at the Jack Shainman Gallery in New York
On View features images from notable exhibits
MADE HIS SOLO DEBUT in New York, Akinsanya Kambon presents figurative sculptures and wall reliefs at the Jack Shainman Gallery. The ceramic works were made using an American raku firing technique, creating patinated surfaces that have a striking iridescent sheen. Born in Sacramento, California, Kambon is a United States Navy veteran, former Black Panther, and retired art professor at California State University at Long Beach (1984-2010), where he continues to live and work. Kambon's practice is informed by his rich experience, the spiritual aspects of his shooting methods, and time spent traveling and living across Africa. The sculptures evoke African stories, legendary West African gods and goddesses, as well as the artist's pan-African beliefs and commitment to community and knowledge sharing. Made between 1994-95 and 2012-21 with four undated works, more than 20 sculptures are presented in the exhibition. CT
Akinsanya Kambon's works are on display at Jack Shainman Gallery, 524 West 24th Street, New York, NY, April 9 through May 7, 2022
FIND MORE about the exhibition

AKINSANYA KAMBON, "King Leopold's Soliloquy", 2018 (raku fired clay, 16 x 8 1/2 x 4 3/4 inches). | © Akinsanya Kambon. Courtesy of the artist and Jack Shainman Gallery, New York

AKINSANYA KAMBON, "Queen Mother of the Dogon", circa 2016 (raku-fired clay, 86 x 40 x 40 cm). | © Akinsanya Kambon. Courtesy of the artist and Jack Shainman Gallery, New York

AKINSANYA KAMBON, "Queen Mother: Matriarchal", 2021 (raku fired clay, 23 x 9 x 10 inches). | © Akinsanya Kambon. Courtesy of the artist and Jack Shainman Gallery, New York

Installation view by Akinsanya Kambon, Jack Shainman Gallery, 524 West 24th Street, New York, NY (April 9-May 7, 2022). | Courtesy of the artist and Jack Shainman Gallery

AKINSANYA KAMBON, "Osanyin," (raku fired clay, 18 1/2 x 9 x 9 1/4 inches). | © Akinsanya Kambon. Courtesy of the artist and Jack Shainman Gallery, New York

AKINSANYA KAMBON, "Zambea", 2019 (raku fired clay, 21 1/2 x 9 x 8 inches). | © Akinsanya Kambon. Courtesy of the artist and Jack Shainman Gallery, New York

Installation view by Akinsanya Kambon, Jack Shainman Gallery, 524 West 24th Street, New York, NY (April 9-May 7, 2022). | Courtesy of the artist and Jack Shainman Gallery

AKINSANYA KAMBON, "The Hogon," (raku fired clay, 18 1/4 x 16 1/4 x 8 inches). | © Akinsanya Kambon. Courtesy of the artist and Jack Shainman Gallery, New York

AKINSANYA KAMBON, Detail from "Yemoja", 2015 (raku fired clay, 27 1/2 x 8 x 12 inches). | © Akinsanya Kambon. Courtesy of the artist and Jack Shainman Gallery, New York

AKINSANYA KAMBON, "Yemoja", 2015 (raku fired clay, 27 1/2 x 8 x 12 inches). | © Akinsanya Kambon. Courtesy of the artist and Jack Shainman Gallery, New York

AKINSANYA KAMBON, "François Mackandal and the voodoo priestess", 2021 (clay fired with raku and copper, 16 x 18 1/2 x 3 1/2 inches). | © Akinsanya Kambon. Courtesy of the artist and Jack Shainman Gallery, New York

Installation view by Akinsanya Kambon, Jack Shainman Gallery, 524 West 24th Street, New York, NY (April 9-May 7, 2022). | Courtesy of the artist and Jack Shainman Gallery

AKINSANYA KAMBON, "Abdominal Pains II", 2013 (raku fired clay, 21 1/4 x 6 x 8 1/2 inches). | © Akinsanya Kambon. Courtesy of the artist and Jack Shainman Gallery, New York

AKINSANYA KAMBON, "Mythical Python of the Baga people of Guinea", 2015 (raku-fired clay, 19 x 14 inches). | © Akinsanya Kambon. Courtesy of the artist and Jack Shainman Gallery, New York

Installation view by Akinsanya Kambon, Jack Shainman Gallery, 524 West 24th Street, New York, NY (April 9-May 7, 2022). | Courtesy of the artist and Jack Shainman Gallery

AKINSANYA KAMBON, "Prayers to God, Call the Rain, Queen Dogon," 2013 (raku fired clay, 21 1/4 x 9 inches). | © Akinsanya Kambon. Courtesy of the artist and Jack Shainman Gallery

AKINSANYA KAMBON, Detail from "Shango", 2019 (raku fired clay, 33 x 11 1/2 x 9 inches). | © Akinsanya Kambon. Courtesy of the artist and Jack Shainman Gallery, New York

AKINSANYA KAMBON, "Shango", 2019 (raku fired clay, 33 x 11 1/2 x 9 inches). | © Akinsanya Kambon. Courtesy of the artist and Jack Shainman Gallery, New York

Installation view by Akinsanya Kambon, Jack Shainman Gallery, 524 West 24th Street, New York, NY (April 9-May 7, 2022). | Courtesy of the artist and Jack Shainman Gallery

AKINSANYA KAMBON, "Soundiata", 2020 (bronze and human hair, 15 x 9 x 5 inches). | © Akinsanya Kambon. Courtesy of the artist and Jack Shainman Gallery, New York

AKINSANYA KAMBON, "The Moor", 1994 (raku-fired clay and copper, 12 x 15 x 1 1/2 inches). | © Akinsanya Kambon. Courtesy of the artist and Jack Shainman Gallery, New York
LEARN MORE about Akinsanya Kambon on instagram and type of crop
Akinsanya Kambon's work is featured in "This tender and fragile thing" a group exhibition currently on view at the Jack Shainman Gallery in Kinderhook, NY (January 15-April 30, 2022)
BOOKSHELF
Akinsanya Kambon (previously known as Mark Teemer) created a Black panther coloring book in 1968 which is part of the collection of the Museum of Modern Art in New York (acquired in 2019). Kambon served as a culture lieutenant for the Sacramento Chapter of the Black Panther Party. "Black Panther: The Groundbreaking Art of Emory Douglas" explores the work of the organization's national culture minister who also served as artistic director of The Black Panther newspaper.
TYPE OF SUPPORTING CULTURE
Do you like and appreciate the type of culture? Please consider supporting its ongoing production by making a donation. Culture Type is an independent art history project that requires countless hours and expenses to research, report, write and produce. To help support it, make a one-time donation or sign up for a recurring monthly contribution. It just takes a minute. Thank you very much for your support.