Picture This: Art Collectors Keep Maine Artists and Dealers Busy During Pandemic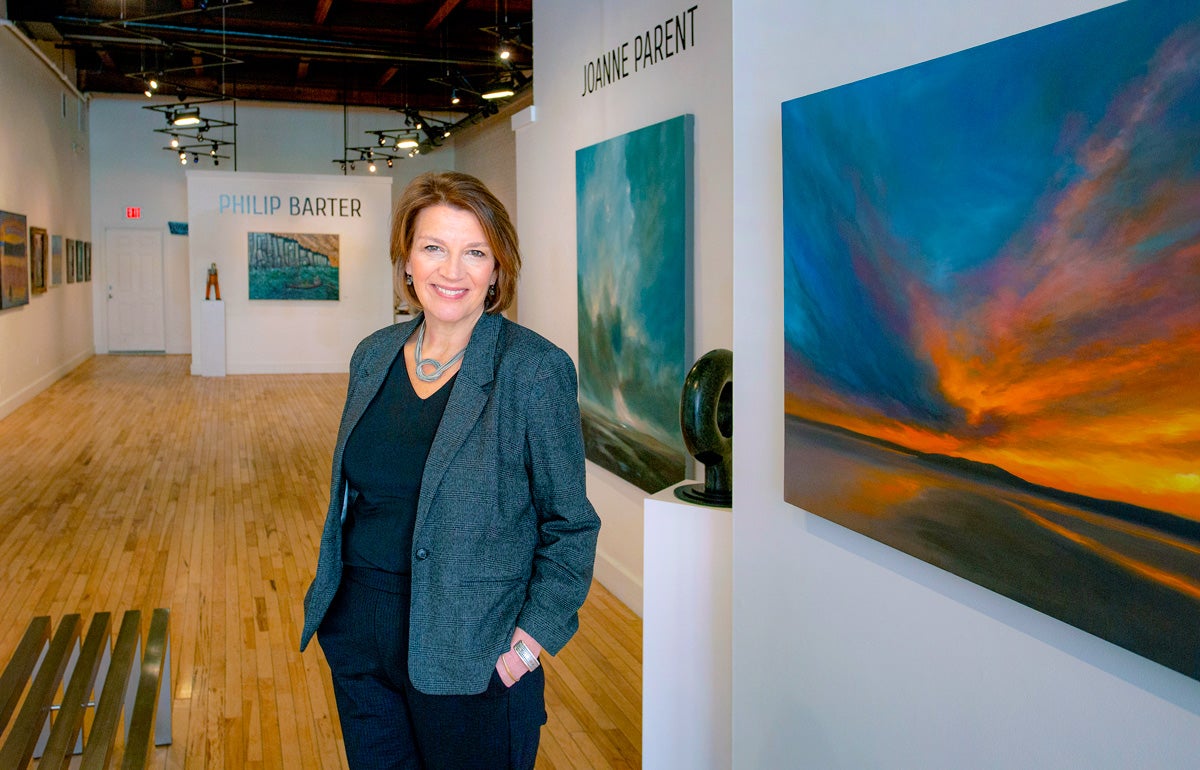 Retired teachers John McIlvain and his wife, Elizabeth Sky-McIlvain, acquired their first sculpture about 20 years ago – an abstract stone and wood creation called "Little Buddha" by Herb Ferris which they placed in their garden in Georgetown.
Currently covered in snow, it sits in a circular raised garden on grounds that they normally open to visitors each spring when there is no pandemic.
"We like the idea that people can see these things, and hopefully they might go out and buy some too. [for themselves] because it's good to support artists doing wonderful things, many of whom are from Maine," McIlvain says.
The couple discovered Herb Ferris and his work through June LaCombe, a Pownal-based dealer and consultant, and have been buying sculptures ever since. They now have about 30 pieces, including a number of works by Maine artists.
Photo / Tim Greenway
June LaCombean arts consultant specializing in sculpture based in Pownal, says she has sold over 100 pieces in 2020. She is standing next to 'Venere', a granite sculpture by Gary Haven Smith.
Despite a tough time for art galleries around the world during the pandemic, dedicated collectors like the McIlvains keep Maine dealers — and artists — busy. This is creating excitement in the art world about a pivotal moment in Maine, akin to New York in the 1950s or California in the 1970s and 1980s.
"People who were buying California art in those days are now millionaires, but it takes courage and commitment," says Susan Larsen, executive director of the Dorothea and Leo Rabkin Foundation, a Portland-based charitable foundation. "Those who put in the time and effort will be rewarded financially and aesthetically." She adds, "Downtown Portland has a very fertile art scene right now, and it doesn't take a big budget to fill your apartment or house with top-notch stuff."
Dinah Minot, Executive Director of Creative Portland, has a similar observation from a collector's perspective: "My investment in art is always for personal reasons, whether it's someone I know or the impact of art. But many of those investments turned into collectible artists.
Global Market, Local Gallery Scene
The global art market recorded $64.1 billion in sales in 2019, down 5% from a year earlier, according to a March 2020 report from Art Basel and UBS.
Since then, a mid-year report from the same groups shows that while galleries saw a 36% decline in sales in the first half of 2020 and the majority expect sales to continue to fall in the second half, buying art – especially online – remained strong, as did interest from wealthy collectors.
This is also true in Maine, where collectors have long been spoiled for choice when it comes to quality works by artists with Maine ties. The state has long attracted artists from Winslow Homer to Edward Hopper and the Wyeths, and more recently Alex Katz (b. 1927) and Dhalov Ipcar (1917-2017), best known for his colorful paintings of animals.
There's also a growing number of contemporary artists and a bustling gallery scene from Portland, which is also home to the Maine College of Art, to coastal communities such as Boothbay Harbor and Rockland.
Like other businesses during the pandemic, many Maine galleries, auction houses, and dealers have adapted during COVID, through virtual exhibits, online sales, and more social media marketing. They have also unexpectedly benefited from an increase in buying and decorating homes, as those unable to travel spend money on art.
At the Portland Art Gallery, for example, "2020 has been our best year by far," says director Emma Wilson. Prices vary widely, ranging from $200 to around $90,000 per work.
"Before COVID, a good opening attracted 100 to 150 people. When we moved to virtual openings in the spring, all of a sudden we found that we could reach 10 times the virtual audience. It has become a very nice connection for our collectors and our artists.
Located at 154 Middle St. in the Old Port of Portland, the Portland Art Gallery represents 55 established and emerging artists. One of them, Waterville landscape painter Matthew Russ, says 2020 was his best year in terms of number of works sold and revenue, thanks in part to virtual events.
A longtime fan of in-person show openings, Russ was surprised to find that the virtual versions were "really, really inspiring and in some ways a bit more intimate."
It helped attract new customers during the pandemic. It all started on a hopeful note last April when a woman purchased one of his paintings for her daughter's birthday and to support an artist who may be facing an uncertain future.
"It was a silver lining at the start of it all and led me to believe that even though things are going to be quite difficult in the months to come, artworks might still be on people's minds" , says Russ. Glad that turned out to be true, he says, "People are spending a lot more time online, so browsing through artwork and looking at images that bring joy, peace and comfort was part of that."
Art and money matter
Regardless of what motivates people to invest in art, it can have financial payoffs over time and is of great interest to advisors in determining client wealth.
"As financial planners, we're always looking at the big picture of the client, so any kind of substantial collectibles go into someone's net worth," says Wolfeboro, NH-based managing director and advisor Susan John. to private clients at FLPutnam Investment Management Co. "When determining someone's tax and liquidity needs, you need to know that items are available."
John works with clients all over New England, many of whom have collectibles ranging from fine art to antique pianos, manuscripts or stamps, which sparked his interest in the field early in his career.
She finds that collector clients do not always think of talking to her about it at the start of the relationship.
"Sometimes they don't tell you right away," she says. "The perception is that you want to know their financial assets, but not necessarily anything else. Sometimes it takes a few years to discover that they have a passion for cars, or that they have a Monet hanging in their living room.
But not everyone collects – or can afford to buy – French Impressionist works, and John points out that it's not certain every piece of art will appreciate in value.
"They will go in and out of fashion," she says. "What's good today might not be good tomorrow, and financial times are changing too." In other words, people are more interested in buying art when they have extra cash and the economy is strong, even if it's not something they can control. , she says.
His advice to collectors: "You can always buy something you love from one of your local artists. It's probably the best thing to do.
Brian Bernatchez, founder and managing director of Golden Pond Wealth Management in Waterville, also counts avid collectors among his clients, but avoids recommending art or other collectibles as an investment.
"I'm in liquidity, I'm in investments," he says. "On the other hand, when people reach a certain level of net worth, they really think about other ways to store value. A lot of people say to me, 'I'm not going to travel this year, I'm going to buy a work of art.' »
File photo / Amber Waterman
Brian BernatchezFounder and CEO of Golden Pond Wealth Management in Waterville
Another factor he cites: "The stock market has done so well, everyone feels richer and doesn't spend as much, which means a lot of discretionary money, which is reflected in the prices you see now in art and anything collectible.These markets are pretty healthy right now.
Sculpture dealer LaCombe can also attest to this, having sold more than 100 pieces last year. She and her husband are also collectors.
"We've been collecting sculpture for years, and I asked my husband if he considered our art an investment, but he said we invest in artists (their careers) who need to sell their work to continue. to create," she said. "And we like to live with our collection."
Glimpse the future
Back in Georgetown on the coast, the McIlvains look forward to the time when they can safely share their outdoor sculptures with others. Sky-McIlvain adds that they are drawn to the three-dimensional visual and tactile qualities of sculpture and have primarily collected modern pieces with an abstract and naturalistic bent, saying, "We buy sculpture to make us think." .
Her husband offers a more practical reason, saying, "We collect sculpture because it gives you something to look at…We never thought of it as an investment.
As they get older, they also begin to think about what will happen to their collection when they are gone.
They have some in mind for their family, others for the grounds of a local school they support, and remain grateful for LaCombe's expertise and dedication.
"She's done a wonderful thing for Maine, and she's unique because of the way she does it," McIlvain says.