Ramesh Mario Nithiyendran on Figurative Sculptures and Carving His Own Path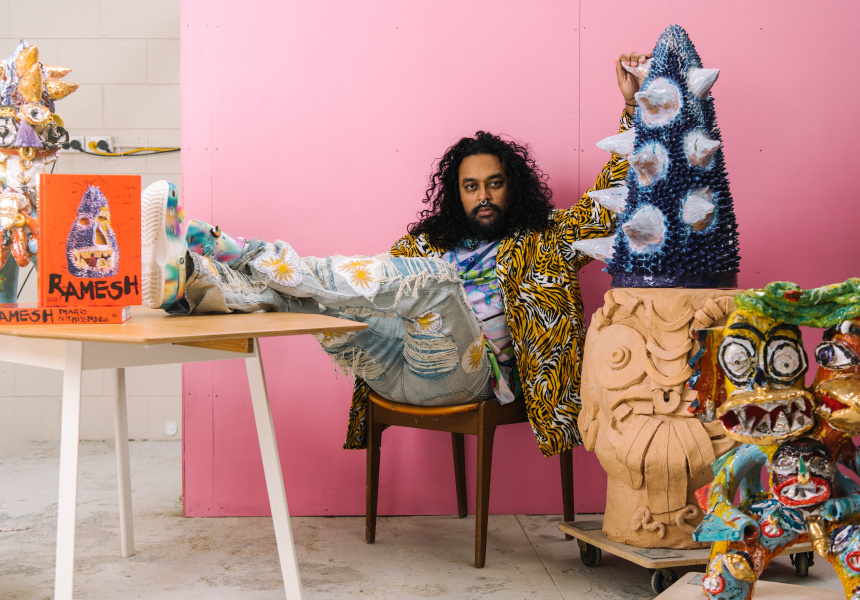 Sydney artist Ramesh Mario Nithiyendran may not be 10 years old yet, but he can already boast an astonishing portfolio of 500 works that have been exhibited internationally including Hong Kong, Berlin , Singapore and Mumbai.
The 33-year-old's gender-defying, instantly recognizable ceramic and bronze models and figurative sculptural figures are layered with colorful and sometimes randomly printed decals. Nithiyendran describes them as "representations of the human figure" that often take animal or divine form, which reflect "past, present, future, different regions, different species" and are heavily influenced by his Sri Lankan heritage.
"I think the more I learned about Western art as an adult, the more boring I found it," he says. Large format. "I'm not saying there's no value in that, I'm just saying I was more drawn to the imagination, craftsmanship and storytelling of mythologies and regions [such as south Asia and Asia more broadly]."
Now nearly a decade of work has been compiled into Nithiyendran's first monograph, Ramesh. The 368-page book, published by Thames & Hudson, is packed with photographs, concept drawings and stories about Nithiyendran's work since 2014.
"We wanted the book to look like one of my works of art, in a way…there are no blank pages, no rest pages. We wanted to fill the book with content and energy," he says. "A lot of my diaries are in museum collections, so we've hopefully given the audience a pretty candid insight through a visual story of how my ideas begin."
Despite all his accomplishments, Nithiyendran admits he didn't always think it was possible to become an artist.
"When you grow up in western Sydney in a migrant family, you don't know any artists or performers…so I never really had any immediate role models who could actually illustrate what life would be like for a artist," he said. "I didn't know it was possible; it was all very mystifying.
Nithiyendran says her interest in art at school gave her the courage to chart her own path. He then studied a bachelor's degree and then a master's degree in fine art at the College of Fine Arts at the University of New South Wales (now UNSW Art & Design).
The release of the book is not the only milestone for 2022. Nithiyendran is already preparing for shows that will take him through the end of the year, including Frieze in London, a group exhibition in Sharjah in the United Arab Emirates and the Sydney Contemporary Art Fair at Carriageworks in September, before culminating in an installation for the Art Gallery of New South Wales Sydney Modern Project when it opens in December.
In his studio in Sydney, there are about half a dozen half-finished statues that rest on his workbenches. Some are partially enamelled, others are in the process of drying. Eventually, they will all come together to form complete works, Nithiyendran explains, showing the clay palettes he has left to use.
"I often work in a series, so I'm working on multiple works at once, and I like working in a studio that feels full, so I can bounce ideas off of other things being done at different stages. ", he says. "I like to work in parts, so things can be moved around and moved around and changed; it allows me to be a bit adaptable. I like to work in disorder. I tend to move through space and see a lot of different things. Often things are done in multiples.
Even though there is already a lot going on, says Nithiyendran: "I just feel like I have endless ideas in my head and I want to do them all, so once they're done, they are closed – everyone else who wants to get out, needs to get out.
He adds that his ideas often emerge from his own drawings or are inspired by other works, but they are also sometimes dictated by pragmatic parameters defined by a gallery, for example.
"I think artistic practice and life are often integrated. It's not like I'm going home and disconnecting from the world; it's just an extension of other practices," he says. "I love fashion, I love prints, I love color, I love layering and I think aesthetics come into my work. I like the extra stuff – I don't like the understated.
Ramesh is now available and available for purchase online at booktopia.
ramesh-nithiyendran.com
@rams_deep69
Learn more in our Studio Tour series.