Rasha's story: history and nature through the sculptures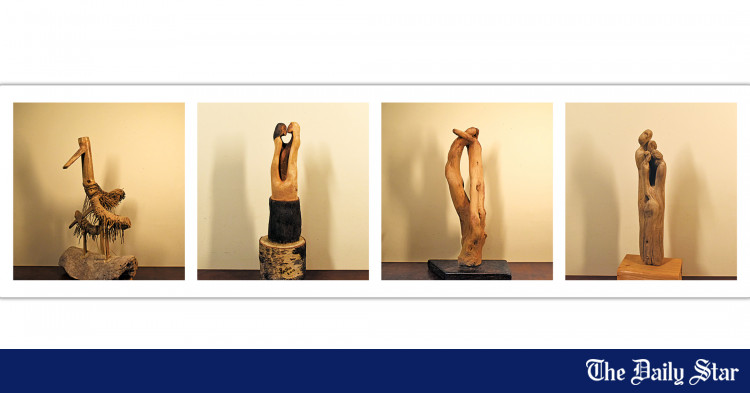 Akhtar Ahmed Rasha, an expatriate Bangladeshi artist living in New Jersey, New York, sees art in the most unlikely places. Unlike most artists, he does not set out with a subject in mind, but walks patiently through nature and waits for his subject to call him into the greenery. Coming from a literary background, Rasha lives her passion for sculpture and combines her work with Bengali history to showcase Bengali culture in a western society.
In 2001, Rasha was inspired by freedom fighter, sculptor Ferdousi Priyabhashini who used materials from nature and other waste materials found all around us in her sculpture. It was Priyabhashini's ability to artfully and skillfully transform such disposable items into mesmerizing works of art that caught Rasha's attention. She used old tree branches, dead twigs, tree trunks, single bamboo, dead leaves and discarded clothes to make beautiful sculptures – something that captivated Rasha and started her artistic journey. Although he had an artistic eye and talent since his school days, it was only after visiting one of Priyabhashini's exhibitions that he started thinking about pursuing sculpture. In 2006, after months of mental preparation, acquiring the necessary resources to get started, Rasha embarked on the realization of sculptures quickly recognized by her community in New Jersey.
Similar to Priyabhashini, Rasha is an artist who uses a medium not recognized by the majority of sculptors. Nature lover, he works with driftwood, bark, roots and trunks, all taken from nature. Each piece of wood has a distinct texture, and in Rasha's hands, it takes on a life of its own.
With four solo exhibitions and a group exhibition, Rasha has gained popularity by highlighting the historical brands of Bangladesh. One of his most important works, "Jessore Road", gives visual form to the 1971 moments captured in American poet Allen Ginsberg's "September on Jessore Road". His first exhibition, "The Sense of a Moment", took place in August 2015, where 50% of his work was sold. With such initial success, the only way for Rasha was to go up. Having worked with distinguished maestros, sculpting iconic figures and creating sculptures based on their work, Rasha took Bangladesh to America. Using mixtures of sawdust, cement, glue and other materials found in nature, Rasha worked inspired by Selim Aldin, Robert Frost, Emily Dickinson, Allen Ginsberg, Pablo Neruda and many others. others.
His process is unlike many in that he combines what are considered scrap objects with his imagination to capture the personality of the character.
Rasha says, "When I walk in the forest or by the lake, I see a piece of wood or a trunk and I see the face of someone like Rabindranath Tagore. edit accordingly so that my audience can see what I see."
In this process, unless he finds the right materials, it is very time consuming, but nonetheless a thoughtful and meditative process.
Her inspiration, associated with nature and culture, is further driven by her family and support. As an artist, Rasha says he comes from a different background and having gained institutional knowledge, he considers himself lucky to work with art and do what he loves. Moreover, he appreciates that in a commercial and capitalist world, he has received such warm recognition and support from his family and community.
His biggest challenge was to believe himself as an artist. Having a separate career, he is still able to invest time in his art and in the future plans to try more experimental sculpting methods. His advice to a generation focused on traditional career paths is that art should be valued and artists should be supported. If someone has an inherent talent, which is necessary for any form of art, he should explore it with passion.
Rasha paves the way for future artists from any background to harness their passion and potential, create art and represent themselves and their identity. Its ability to bring together art, nature and culture is truly monumental and unique, and a springboard for the entire artistic community.
Photo:Akhtar Ahmed Racha