Senior Artists Focus on Nostalgic Capstone Symbolism | Projects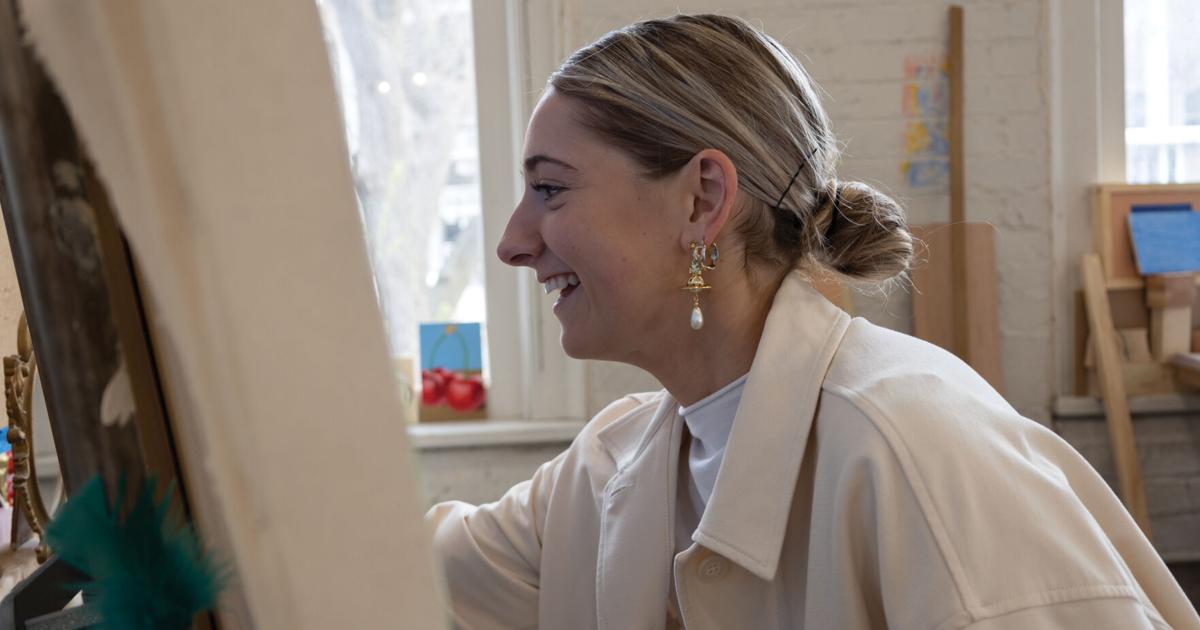 Chloe Iossi's bedroom captures both her pop-art and minimalist aesthetic. In the next room, Cicely Pickel's cottagecore aesthetic fills its space. Their neutral apartment living room acts as a style-DMZ, keeping the two artists' different aesthetics at bay. The two housemates don't have similar styles, but their artistic designs are comparable. Through their masterpieces, these young women of art grapple with the nostalgia of their childhood.
The two housemates spend a lot of time in Richards Hall with late nights working on projects in the painting and drawing rooms. When one is at Richards, the other roommate is often on the way so the two can work together.
Pickel, a senior art student, has a workstation in Richards near the window overlooking Memorial Stadium. Her embroidery rests on the windowsill and her art stretches across the space – hung on her work walls and set on tables. A few stations down, advertisements hang on the labor wall. Artwork is photoshopped into gallery landscapes where Iossi, an art major, mixes her pop art flair with her love of fashion advertisements.
Pickel focuses on printmaking, but she also works with mediums like painting and sewing. Over time, Pickel's art became more vulnerable as she grew as an artist, especially in the last semester with her capstone project pieces.
Pickel said his pieces tend to focus on themes of nostalgia and the past, recalling times that individuals don't realize are the end of an era. She used a quote for one of her centerpieces from "A Futile and Stupid Move," which reads, "These last few days are some of the happiest I've ever ignored."
"I use [the quote] to talk about childhood nostalgia. Like those times when we think 'When was the last time I rode my bike or played with my cousins ​​in the alley and I never thought about it again,'" Pickel said. "You just have to enjoy these moments."
Her other pieces for her cornerstone feature embroideries of evening creatures such as cicadas and dragonflies. Behind the embroidered insects, quotes are printed, with keywords such as "miss" and "moments", all of which were written by Pickel.
Pickel said her use of embroidery as a medium reflects the historical significance of embroidery for women, as well as the personal importance of learning to sew at a young age.
"People wouldn't do this for fun," Pickel said of the embroidery. "They did it because they had to and they wanted their clothes to look better. They wanted to fix the clothes they had, and now I use them to make rude jokes.
Pickel reinvented the narrative of embroidery by stitching a feminist quote or modern saying to her designs, which juxtaposes the association of femininity and embroidery with empowerment.
"It has a lot to do with that feeling of nostalgia or being feminine for different generations. For some generations, it's like keeping all your thoughts and putting on that pretty face," Pickel said. "For others it's like, 'Anything guys can do, I can do better.' Now, it really depends on what each girl defines herself, and that's why I love working with embroidery.
As she creates a piece, she said she sometimes doesn't fully understand the meaning of the choices she made until later.
Pickel said the quotes chosen for the cicada piece didn't need to make a lot of sense and could make the viewer laugh. She said sometimes what's being said doesn't have to be super meaningful.
"He says, 'I've cried every 17 years,' like it doesn't have to be super meaningful just to say something," Pickel said.
While Pickel was finishing his embroidered pieces, Iossi was packing his last piece for his cornerstone.
Iossi's latest piece is an interpretation of his hometown experience in Arlington, Nebraska. Following his pop art style, Iossi painted a Shell gas station, a goldfish bowl and large blueberries.
"I've been thinking about when I last graduated from high school, so there's just weird token coins that relate to my hometown, which was super small with 1,400 people," said Iossi.
Iossi's hometown sprawls over 326 acres, and for small-town high schoolers, gas stations and chain stores are among the only places to hang out. The Shell logo is prominently displayed on the canvas and a goldfish bowl sits below the gas station sign, a throwback to all the goldfish she grew up.
When Iossi goes to eat a blueberry, she doesn't know if the one she picks up will be sweet or bitter, which she has linked to friendships she had in high school. Thus, two life-size blueberries appear on the canvas.
"It's really the first one that I thought about a lot and one of the first that has a lot of conceptual meaning behind it," Iossi said of his latest showpiece. "The others though, honestly, are more uncovered towards the end."
Iossi said his work is inspired by fashion and consumerism. These two concepts are illustrated by a particularly interesting painting of two rats sitting below the Gucci logo, with a 1961 Gucci Jackie bag sitting between the luxurious rodents.
In most of Iossi's pieces there is an allusion to branding, be it fashion magazines or television commercials.
"I'm still trying to figure out why I'm so drawn to ads," Iossi said. "It could just be the simple fact that we are surrounded by them. I think it's because of consumer culture and how it harms us and the environment.
In another room, a swirling red and white toothpaste is pictured on a canvas, with the words above reading "Suave 38-in-1". Iossi said she wanted to poke fun at the "three-in-one product." Iossi added a list of different uses for the product, saying it could be used as a shampoo or engine oil.
Iossi's take on the commercials tends to connote a bit of sarcasm, which she says is due to growing up with her father's dry humor. When someone looks at her pieces, she wants them to laugh as much as she wants them to think about the deep meaning.
Her new piece, she said, is the first where she has really thought about the meaning beforehand. For other pieces, she'll put ideas together from photoshop and play around with what looks best, thinking about the end goal for the aesthetics of the piece.
The two artists found the meaning of their art once it was finished. The aesthetics of their pieces have been a big factor in what they create, but their cornerstones have inspired both artists to create pieces with deeper meaning.
The pieces created by these housemates are very different, but all of their pieces have a similar meaning. Reflections on their childhood are embedded in their art, whether it is represented by a cicada or a large blueberry.
culture@dailynebraskan.com