Swim for pumpkins, view artwork, dress up like a lumberjack and more upcoming events in Keller-Roanoke-Northeast Fort Worth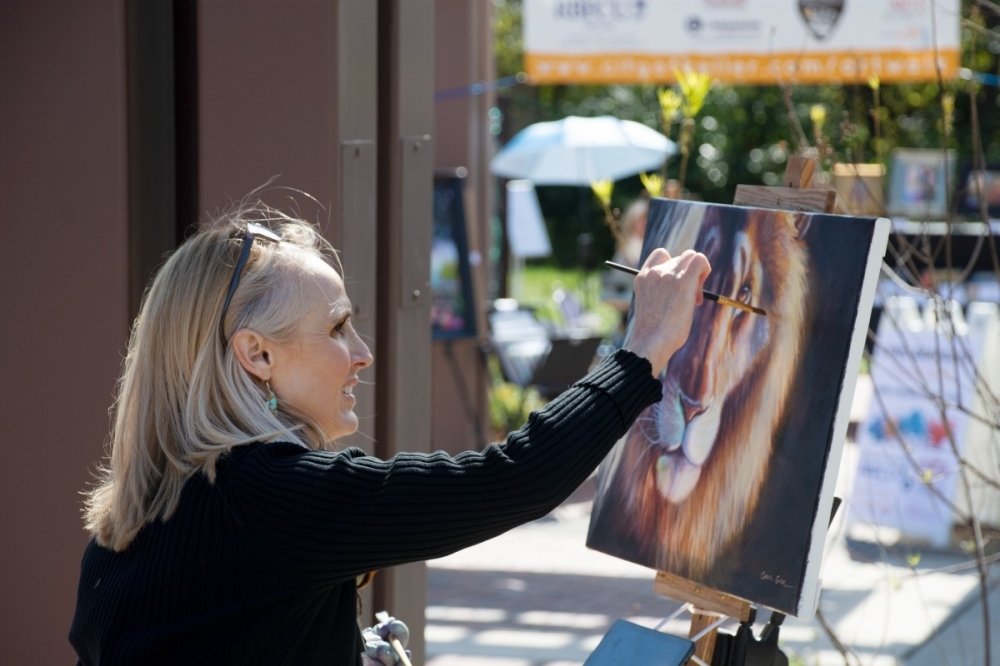 Here are some upcoming events in Keller, Roanoke and Northeast Fort Worth in October and November.
September 30-October 23: Get Texans at the State Fair
The State Fair is in town until the end of October. The fair features rides, games, rodeos, shows, live music, bars, family events and food, according to the event's website. Doors open from 10 a.m. to 9 p.m. Tickets range from $10-$50 (day passes) to $150 (two season passes) and can be purchased online. Fairtime Parking, 925 S. Haskell Ave., Dallas. 469-945-3247. www.bigtex.com.
From October 3 to November 23: discover local art
The 14th Annual Keller's Got Talent Art Show & Competition celebrates local artists creating work in all mediums with a public exhibition. A reception and awards ceremony was held on October 20 at Keller Town Hall. The exhibition is open during business hours from 8 a.m. to 5 p.m. on weekdays. Free. Keller Town Hall, 1100 Bear Creek Parkway, Keller. 817-743-4000. https://cityofkeller.com
Oct. 21: Trunk or candy
The second annual Roanoke Community Trunk or Treat will allow the community to collect Halloween candy from over 40 trunks as well as enter a costume contest for prizes and enjoy live entertainment. To allow for crowd control, admission to the event will close at 6 p.m. 4 p.m. to 7 p.m. Free admission (with donation of pantry). Hawaiian Falls Parking Lot, 290 W. Bryon Nelson Blvd., Roanoke. 817-853-0099. www.facebook.com/events/1351316192065779/
October 22: Buy fruits, vegetables
The Farmers Market is held every Saturday until December 31. The event runs from 9 a.m. to 1 p.m., located near Olive Garden and Buc-ee's. 1585 N. Highway, Fort Worth. 817-464-5400. www.tangeroutlet.com/fortworth/events
October 28: Swim for Pumpkins
The Keller Pointe will host its annual Pumpkin Splash. The recreation center's indoor pool will transform into an aquatic pumpkin patch for visitors to swim in and pick a pumpkin to take home. 6 p.m. to 8 p.m. $15 (advance), $20 (day). La Pointe Keller, 405 Rufe Snow Drive, Keller. 817-743-4386. www.thekellerpointe.com/activities/special-events/pumpkin-splash
October 29: Scare
Medical City Alliance's eighth annual Spooktacular Fall Festival celebration will be held under tents in the southwest corner of the hospital's main parking lot. The event will include free food and drink, music, tricks or treats, face painting, games, and pumpkin and costume decorating contests. 10:00-14:00 For entry, participants are asked to bring two non-perishable food items to donate to local shelters. Medical City Alliance, 3101 N. Tarrant Parkway, Fort Worth. 817-639-1000. https://medicalcityhealthcare.com/locations/medical-city-alliance/
October 29: Clean your house
Trophy Club residents can properly dispose of unwanted household hazardous waste and prevent pollution during the city's semi-annual community cleanup. Items accepted include batteries, aerosols, paint, pesticides, fluorescent lights and more. 8am-noon. Free. Bryron Nelson High School parking lot, 2775 Bobcat Blvd., Trophy Club. 682-237-2900. www.trophyclub.org/569/Hazardous-Waste-Community-Clean-Up
October 30: Enjoy a spooky party for kids
Children 8 and under are invited to celebrate Halloween at the Cheeky Monkeys play area, which will be decked out in a spooky setting for its Boo Bash. The event includes candy, photo ops, pizza lunch, face painting and slime making, and a costume parade with a contest. 11 a.m. to 2 p.m. $21.99 per child. Cheeky Monkeys Fort Worth, 9160 N. Freeway, Ste. 432 Fort Worth. 817-750-1005. www.cheekymonkeys.us
November 5: Raise funds for local children
Christ's Haven For Children's annual Fashion & Brunch raises money for the nonprofit's efforts to help displaced young people. The event will include brunch, cocktails and mocktails, wine raffles and raffles for designer bags. 9:30 a.m. to 12:30 p.m. $25 (12 and under), $100 (over 12), $50 to $200 (raffle tickets). Chandon Arbor, 121 S. Elm St., Keller. 817-431-1544. https://christshaven.org/event/fashionshow/
November 5: Watch a parade
Roanoke's annual Veterans Day event will feature a car show, live music, food and remarks from distinguished military officers and a parade of more than 40 floats. 11 a.m. (car show), 12 p.m. (speakers), 12:20 p.m. (parade). Free. www.roanoketexas.com/488/Veterans-Day-Parade
November 5: Lumberjack's Gaze
The inaugural Flannel Fest, Keller's Parks and Recreation Department's fall festival, encourages area residents to put on their comfiest flannel and enjoy live music, vendors, a cornhole tournament and activities for children. 10am-8pm Free. Bear Creek Park, 400 Bear Creek Park Road, Keller. 817-743-4050. www.cityofkeller.com/services/parks-recreation/
November 11: Celebrate Veterans Day
The City of Trophy Club, in partnership with the Metroport Veterans Association, will commemorate Veterans Day with a ceremony to honor local veterans. The event will include remarks from members of the military and city officials as well as a display of military branch flags. 11am-noon. Free. Military Veterans Memorial Park at Independence Park West, 501 Parkview Drive, Trophy Club. www.trophyclub.org/517/Veterans-Day-Celebration
November 12: Go for an artistic walk
Enjoy Keller's Old Town district on the city's fifth annual Art Walk. Various artists, such as painters, sculptors and photographers, will present their works alongside theatrical, choreographic and musical performances. The event will also feature a kid's zone for children to get creative with, and food trucks will be on site. 10am-5pm Free. 114 W. Hill Street, Keller. 817-743-4000 https://cityofkeller.com
November 16: Taste wine and jazz
The annual Keller Chamber of Commerce Wine & Jazz event includes live music, local restaurant sampling, a silent auction and wine tastings. The event has a black and white theme. 5:30 p.m. to 10 p.m. $75. Keller Town Hall, 1100 Bear Creek Parkway, Keller. 817-431-2169. https://kellerchamber.com/