The work of a student from William Cobbett Elementary School chosen for the exhibition of young artists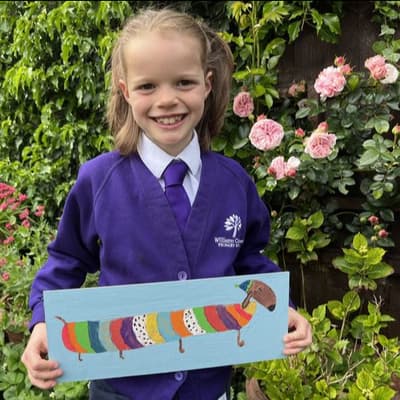 William Cobbett Primary School has submitted a series of artworks to this year's Young Artists Summer Show at the Royal Academy.
Eight-year-old William Cobbett Primary School pupil Amelie Rondeau's artwork Sausage Dog – Tinsel was chosen to be part of the show at the Royal Academy.
This is an impressive achievement for Amélie, as not only was the work chosen for the exhibition from over 21,000 works, but it is also one of two Key Stage 2 works to receive a price.
Amelie won a £50 art voucher for herself to spend on art materials, and she also won £500 worth of art materials for her school.
As the winner, her works will be part of the exhibition at the Royal Academy and Amélie and her family have been invited to attend an awards ceremony where Rebecca Salter, President of the Royal Academy of Arts, will present each winner its voucher and certificate.
Sharon Pritchard, Principal of William Cobbett Primary School, said: "Bravo to all the children at William Cobbett Primary School who have entered the Royal Academy Young Artist competition.
"We are so proud of Amélie for her fantastic achievement.
"Being part of the final exhibition among over 21,000 entries is remarkable and a credit to his creativity and hard work.
"Thank you to Emily Jenkins, our art co-ordinator who made it possible for the children to participate – she is delighted to use the £500 prize to further enhance the high quality art offer we provide to all children in the school. "