This Intimate Melbourne Artwork Diffuses Skeletons Into Your Digital Closet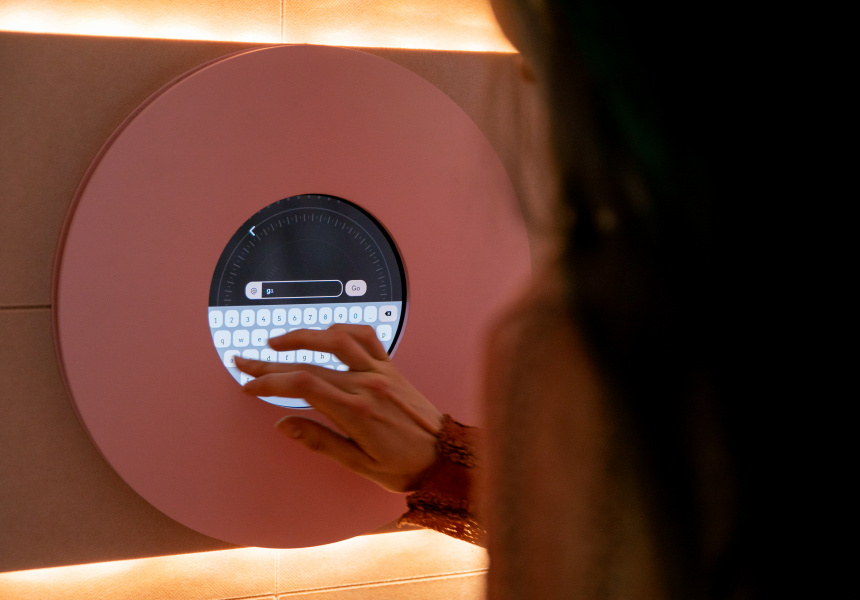 Getting out of the art installation scratch the elegyyou will either be in tears, in a fit of giggles, or intensely frightened.
"It's so divisive, in a good way," says Tilly Boleyn, curator of Swarm, the massive exhibit that scratch the elegy is part of. It runs at the Science Gallery in Parkville until December 3.
The setup prompts you to enter your Instagram ID on a screen and accept a follow request. Then, in a pastel pink bathroom stall, a disinterested robot voice reads your messages to you, while an ambient soundscape by composer Monica Lim swirls around the room. You will find out exactly how many skeletons are hanging in your closet online, where everyone can see them.
"Some people come out so overjoyed and in tears about things they had forgotten about, and some people come out horrified by the amount of information we're putting out," Boleyn says.
Not two scratch the elegy the experiences are the same – even for one person. You will always hear your first and most recent messages. But the algorithm, devised by software engineer Misha Mikho, otherwise randomly moves through your other posts to create an "elegy" that lasts just over five minutes.
"The poetics of the elegy is really specific – you know, it's traditionally a poem of mourning delivered at a funeral," says Willoh Weiland, the artist behind scratch the elegy. She is known for her interactive art installations in Australia, like the ones in 2019 Lick Lick Blink and Mona Foma's late-night party, Faux Mo.
The Center for AI and Digital Ethics came to Weiland with the idea. She was curious about the prospect of reframing our relationship with what we post on social media.
"I was intrigued by how twisting and turning these very basic lyrics in this very formal, melodramatic way would make us feel differently," she says.
"It's called 'scraper' because often… 'evil bots' scrape our data when we're online, and I was intrigued by how awful that word sounded."
Sinister aspects aside, scratch the elegy elevates this raw data, showing their humanity. Birthdays, vacations with old friends, high school graduations, and times with lost loved ones become a memorial of your online life so far. And sometimes an emotional moment will be interrupted by a robotic voice diligently reading a series of emojis. It's the unpredictability of scratch the elegy.
The cabin was designed specifically to create a private yet accessible space that enhances the impact of those unexpected readings.
"When you're in the gallery, you're interacting with the artwork, or the other people who are there with you. It's the opposite of privacy, and I often find it quite an anxiety-inducing experience," Weiland says.
Many Swarm installations are designed with a similar level of interactivity, ensuring no two people will have the same experience. The interdisciplinary exhibit merges science, technology, art, engineering, and First Nations knowledge systems to consider collective behavior through the key question, "Are we wired to be part of the pack?"
scratch the elegy deals with one of the four major themes of the exhibition: mass information.
"We upload over 500 hours of video and content to Youtube every minute of every day," Boleyn says.
It's a huge amount of content, impossible for one person to understand. But another piece, the audio landscape Maelstrom, tries to do just that – by asking the question "What does the Internet look like?" Its creators, the artist duo Daniel Jones and James Bulley, have developed an algorithm that samples the sounds of thousands of Youtube videos uploaded at any given time, organizing them into a sort of soundtrack.
The resulting work asks us to consider how much of the content we consume is actually useful, and how much is junk food or misinformation. And, just like scratch the elegyit presents hard truths about the online world that more than two billion users experience rather blindly.
Weiland says she hopes her installation will change the public's perception of social media, as it did hers.
"There's a sadness, I think, in the fact that all of these experiences that we have that are sold to us as being among friends are actually part of the machine that sells ourselves."
Swarm is at the Science Gallery until December 3, 2022. Open 11 a.m. to 5 p.m., Tuesday through Saturday. Free entry.
melbourne.sciencegallery.com