Treasure Island's Sanding Ovations mix fantastical sand sculptures and non-stop live music | Beaches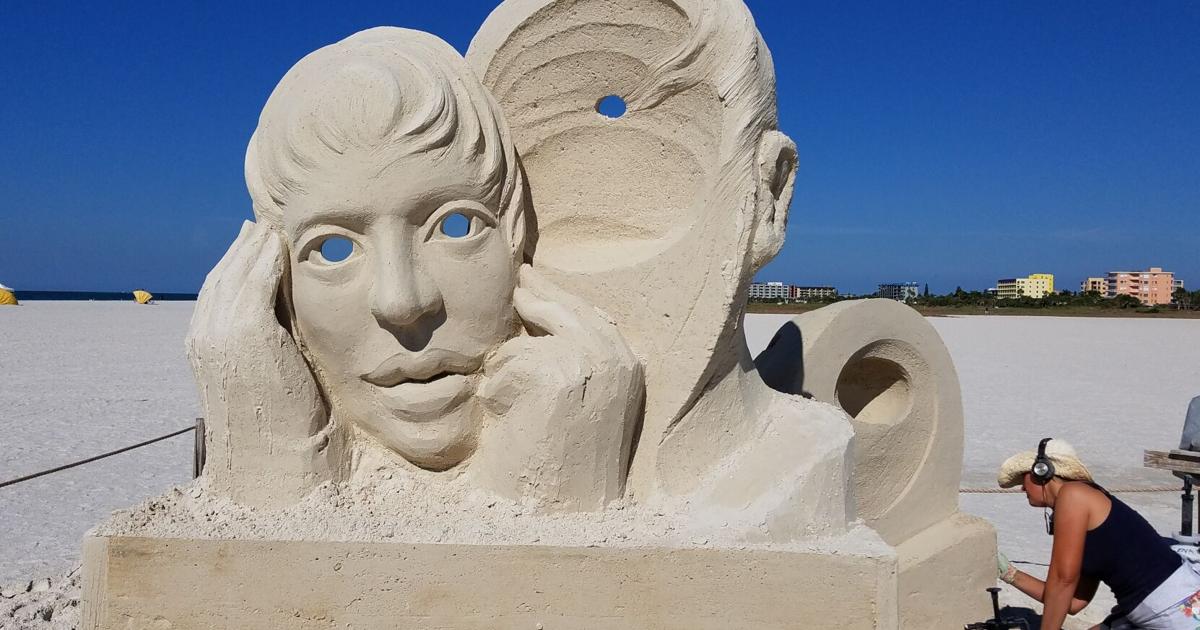 TREASURE ISLAND – Sand sculptors from around the world will turn the 15th edition of the Sanding Ovations into a fantastic tale on the beach, with creations designed around the theme "Once upon a time".
The Sand Artists Showcase is expected to draw tens of thousands of spectators over two weekends: November 17-20 and November 26-27.
"Sanding Ovations has become Treasure Island's signature event, as well as one of Pinellas County's premier events," said Director of Recreation Cathy Hayduke. "This is the 14th annual Sanding Ovations Masters Cup. however, this is the 15th year. During COVID we changed the structure from a competition to an exhibition and decided not to title the event for this year as an annual event.
Hayduke said around 40,000 people are expected to attend the event over the two weekends.
"Not everyone comes on the same day and/or at the same time. Saturday is usually our busiest day," she said. "The sand sculptures remain in place until the week of January 2, and many visitors continue to view the sculptures during this time," she said.
The event might never have happened if the two organizers hadn't "found love in the sand," recalls event co-organizer Meredith Corson Doubleday. She said she was from Florida and her future husband Dan Doubleday from California when Kismet brought them together at a sand sculpting event in British Columbia several years ago. They found love inspired by the art of sand sculpting, got married and traveled the world creating with sand.
Doubleday said she was fortunate to have worked on the nurturing sand sculpture on Treasure Island from the very beginning. She recalled that in 1985 she volunteered to help when Treasure Island established a Guinness World Records-recognized mark for largest sand sculpture and was hooked.
Then, about 25 years ago, the city asked her if she would be willing to help create an event on the beach after receiving an offer of funding from Landshark Beer; both became precursors to Sanding Ovations.
The city's fame in producing sand sculpting events culminated when former Governor Jeb Bush proclaimed Treasure Island the sand sculpting capital of Florida in 2001. This led to the creation of Sanding Standing ovations, said Hayduke. The first official Sanding Ovations took place in 2008.
"I have no formal artistic training, but I have always worked with my hands. Sand was a natural fit for me," Doubleday said. "How lucky I am to have found a way to make my passion my profession. I have fun at work every day and this is my office.
Doubleday explained that since the event is now themed, her husband Dan is the designer who comes up with imaginative topics, like this year's fantasy tale. Sculptors are given the theme and can then use their imagination to conjure up the muse and exhibit their own ideas. A competitive element was added because viewers like competition, and it adds prize money for performers.
Behind the scenes, much of the prep work for the event involves finding sponsors to pay for airfare, hotel rooms and meals for participating sculptors, she explained.
Additionally, approximately 300 tons of clean beach sand is spread on Treasure Island Beach for Sanding Ovations. Doubleday noted that the sand should be natural sand and certified for cleanliness and quality. After the event, it will be used to regenerate the natural environment.
Hayduke said carvers are invited to participate by CeeJays Inc., the Doubedays company that operates Sanding Ovations for the city.
The event has acquired such notoriety that it now attracts the best international artists, who have come this year from Ireland and France.
From Ireland, Fergus Mulvany's sand creations have won him 1st, 2nd and four times the Sculptors' Choice at the Moscow International Sand Championships; 1st at the Toronto CNE International Sand Masters 2012; 2nd and Sculptor's Choice at the 2012 San Diego US Sand Sculpting Challenge; and 1st at the 2013, 2014 and 2017 European Championships in Zandvoort, Holland.
"I started sand sculpting by chance in 1993, while studying sculpture in Dublin," he said. "Since then, the medium and sand culture has exploded into a global phenomenon and taken me on its ever-widening path from Europe to Australia and from Asia to North America."
French chef turned sand sculptor Benoit Dutherage told organizers over the past 20 years that he had "participated in international competitions and events from Japan to Australia, Singapore and the United States. and more. It's his first time at Treasure Island.
Also participating is Sue McGrew, an artist from Tacoma, Washington, who, according to event organizers, has "a fluid, organic style and expressive figures that have taken her to more than 85 competitions and dozens of performances around the world. festivals in 35 countries". She has a degree in theater stage management, but chose to follow her love of the sand after college.
Deborah Barrett-Cutulle of Saugus, Mass., is a graduate of the Art Institute of Boston. She told event organizers: "I feel blessed to be making a living doing what I love. I am a full time artist working as an illustrator/muralist and sand sculptor. I discovered sand in 2005 on Revere Beach and fell in love with it. Another highlight of my life in the sand is participating in the Sanding Ovations Sand Sculpting event every November for the past 7 years.
Mélineige Beauregard of Montreal, Canada, believes that sand sculpting is "a spiritual experience. When my hands touch matter, when my heart opens to give life, when my head lights up with light, I become co-creator of the universe," she said. "An artist is one who spiritualizes matter. For me, art is a means of communication, a means of transmitting the energy of life, of affirming its immensity and its beauty. Her father is the internationally renowned sculptor Guy Beauregard.
Event organizers say local Seminole artist Damon Meri has "a unique style and off-the-beaten-track mindset that has earned him numerous awards in the pro/am division, including 5 first-place finishes. and 4 public choice honors. As a sculptor, artist and street painter, he considers himself very lucky to share his talents in festivals and competitions all over his home country.
Other artists participating in Sanding Ovations are Bruce Phillips from San Diego and Canadian Abe Waterman.
In addition to highlighting artistic creations, both weekends include musical concerts featuring local bands. "This year we focused on many local bands providing appreciation for our local bands and our community," Hayduke said.
Parking is available at all city metered lots and at Treasure Island Park. There will be a shuttle from Treasure Bay and Paradise Lutheran Church.
Visitors will also enjoy a beachside food court, beer garden, and craft market. There will be fireworks on November 19 at 9:45 p.m.
Sanding Ovations Main Weekend
Thursday, Nov. 17, 10 a.m.-6 p.m.
Friday, Nov. 18, 10 a.m.-10 p.m.
Saturday, Nov. 19, 10 a.m.-10 p.m.
Sunday, Nov. 20, 10 a.m.-6 p.m.
Again the weekend
Saturday, Nov. 26, 10 a.m.-10 p.m.
Sunday, Nov. 27, 10 a.m.-6 p.m.
Group Schedule — Main Weekend
Friday, November 18: 3 p.m., Sarasota Slim; 5 p.m., Motel Funk; 7 p.m. Kid Royal.
Saturday, November 19: 12 p.m., St. Pete School of Rock; 2 p.m., Alex Whalen; 4 p.m., Alex Hayes Band; 6 p.m., Angie Rey; 8 p.m., pirate marching band.
Sunday November 20: 12 p.m., Chris Manings; 2 p.m., Dennis Wallace; 4 p.m., Speak softly.
Group Schedule — Encore Weekend
Saturday, November 26: 4 p.m., Nathan Allen, 6 p.m., Dennis Wallace and Cornfused; 8 p.m., Mad Beach Band.
Sunday, November 27: 12 p.m., Josh Fielding; 2 p.m., Dead Set.