world record set by Cabazon dinosaurs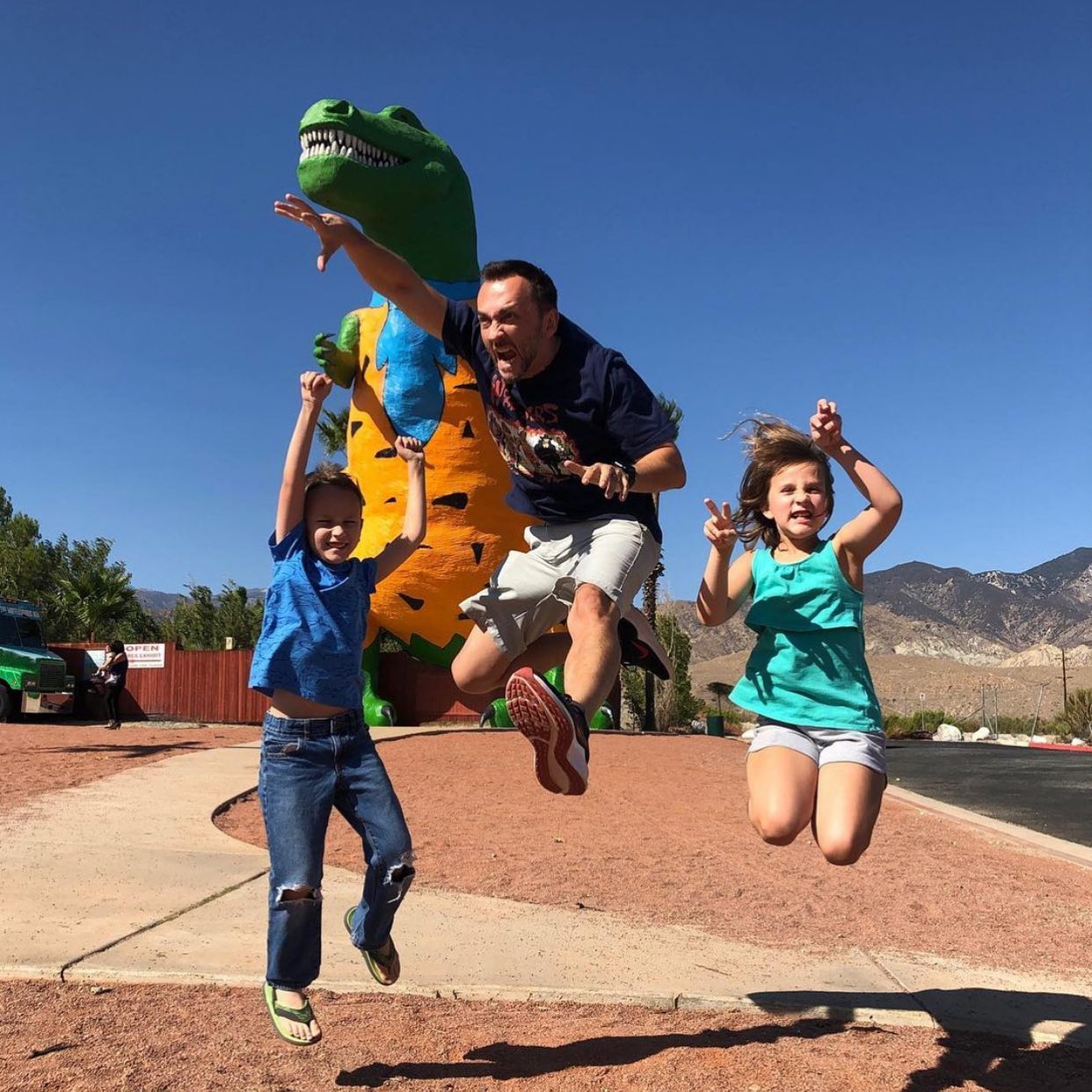 Cabazon, California, USA–Cabazon DinosaursPreviously Claude Bell's dinosaurs, is a roadside attraction in Cabazon, California, featuring two massive steel and concrete dinosaurs named Dinny the Dinosaur and Mr. Rex; the 150-foot-long (46 m) Brontosaurus and 65-foot-tall (20 m) Tyrannosaurus Rex, visible from the freeway to travelers passing through Southern California's Interstate 10, set the record for world to be the
The largest dinosaur sculptures in the worldaccording to the WORLD RECORD ACADEMY.

The world's largest dinosaur sculptures are best known for their appearance in the movie
Peewee's Big Adventure.

"Theme park sculptor and artist
Claude Belle began building the dinosaurs in 1964 in an effort to attract more customers to its nearby restaurant, the Wheel Inn (open 1958-2013).

"Dinny and Mr. Rex were completed in 1975 and 1986 respectively. Bell died in 1988 aged 91 and his family sold the property in the mid-1990s. Since then,
Cabazon Dinosaurs was the site of a roadside creationist museum and gift shop." (Wikipedia)
"The creation of the Cabazon dinosaurs began in the 1960s by Knott's Berry Farm sculptor and portrait artist Claude K. Bell (1897-1988) to attract customers to his Wheel Inn restaurant, which opened in 1958 and closed in 2013.

"Dinny, the first of the Cabazon dinosaurs, was launched in 1964 and created over a period of eleven years.[6] Bell created Dinny from spare materials salvaged from the construction of nearby Interstate 10 at a cost of $300,000. The biomorphic building that would become Dinny was first erected as a steel frame on which an expanded metal grid was formed in the shape of a dinosaur.
"All of this was then covered with layers of shotcrete (shotcrete). Bell was quoted in 1970 as saying that the 45-foot-tall (14 m) and 150-foot-long (46 m) Dinny was "the first dinosaur in history, as far as I know, to be used as a building."
"His original vision for Dinny was for the dinosaur's eyes to glow and the mouth to spit fire at night, predicting, 'It's going to scare the dicks off a lot of people crossing the pass.' 'These two characteristics, however, were not added.
"A second dinosaur, Mr. Rex, was built near Dinny in 1981. Originally, a giant slide was installed in Rex's tail; it was later filled with concrete, rendering the slide unusable. A third sculpture woolly mammoth and a prehistoric garden were drafted but never completed due to Bell's death in 1988. (Wikipedia)
"(The world's largest dinosaur sculptures) were built by Claude Bell, who ran the adjacent Wheel Inn on I-10. Claude, a former designer of amusement park statues, took eleven years to build Dinny, a 150-foot-long apatosaur and arguably the largest dinosaur in America, the
roadside america reports.
"To cut costs, he salvaged rebar and cement from the freeway construction. A small museum in Dinny's belly still sells memorabilia. Claude's
the intake panel promised faster work on the rest of the dinosaur family he had planned.
Claude's next project, a giant tyrannosaur with a slide on its tail, was nearing completion when Claude died, aged 91, in 1988. Other sculptures were on the drawing board, including a woolly mammoth. The Tyrannosaurus – known as "Mr. Rex" – was never completed and, according to the museum director in Dinny's Belly, "it never will be".
"In 2005, Gary Kanter, an Orange County developer, began working with Pastor Robert Darwin Chiles to use the Cabazon dinosaurs as a platform for their creationist views. This ended after about ten years. current owners like to repaint the dinosaurs several times a year in non-traditional dinosaur colors – but, then, no one really knows what colors the dinosaurs were anyway," said the
roadside america reports.
Photo above: The largest dinosaur sculptures in the world: the Cabazon dinosaurs. Photo: Dicklyon/wikipedia
"Today, the dinosaurs no longer house a museum of creation, though they still live on as a kitsch roadside attraction. You can still climb through the T-Rex's mouth Pee Wee style Herman, and the site now houses a dinosaur-themed exhibit and a gift shop filled with all manner of dinosaur-themed trinkets," the
Dark Atlas
reports.


"The 2 Big Dinosaurs aren't hard to miss on the highway. Once featured in PeeWee's Big Adventure, the Giants are now a roadside attraction and gift shop. Giant Brotosaurus Mrs. Dinny has a gift shop nestled in her belly.My kids were always so excited to climb outside of these giant creatures and marvel at their massive size.Plus, who can resist a photo op.
"This place is great for families with young children. Teenagers may get bored and adults will just have a good laugh. But, you have to admit, the dedication of the founder of this park is amazing and heartfelt. So, for that , I'm really enjoying the dinosaurs that seem to be rising along the highway!"
"You have to pay admission to see them, but it's not too expensive. I thought it was well worth the price we paid to see all the different types of dinosaurs. We can also climb the inside the Rex tea its mouth from behind. It was pretty cool. If you don't want to pay, you can see the Brontosaurus on the T-Rex and visit the gift shop inside the Brontosaurus.

"Make the stop, it's fun to see!"
The largest dinosaur sculptures in the world

Address: 50770 Seminole Dr, Cabazon, CA 92230, USA
Directions: I-10, Main Street exit, 13 miles west of Palm Springs.

GPS: 33.9229, -116.7743
HOURS:
Monday to Friday: 9 a.m. to 7 p.m. (end of ticket sales at 6.30 p.m.)
Saturday and Sunday: 9 a.m. to 7:30 p.m. (end of ticket sales at 7 p.m.)
Admission: Adults $15. Free to see outside.
Facebook:
https://www.facebook.com/cabazondinosaurs/

Admission
at the dinosaur park: Adults $15 13-55 years old | Children $13 From 3 to 12 years old | Seniors and military $11
website:
https://www.cabazondinosaurs.com/